I guess that it's enough for you to read the name of this game – 8-Bit Commando – to know everything it is (or at least wants to be): a retro run-and-gun platformer that should be true to late 80s game greatness but still rise up at today's standards. At least that's what I thought it should be about and I was mostly right. 8-Bit Commando is that type of game that makes you smile and get nostalgic: those were the times (and probably if you are 15 or something, just say "what the ***& is this crap?!?!!1111")
The first thing you notice when you start playing 8 Bit Commando is that there are just 4 levels that you can play and since all of them have a time limit that must be beaten of just 5 minutes, you'll probably think that you've been scammed and you received a stupidly short game. That's not at all the case, even though the game is indeed very short: it will, however, take some time for you to master it and then, as always, you'll feel the need to beat it again and again, faster and faster (especially since there are online leaderboards).
And then, your entire past comes back to life in a classy 8 Bit fashion: the graphics manage to remain true to the late 80s era without making you feel that they're completely outdated and the sounds are really well chosen adding a bonus to the overall feel of this fast paced game.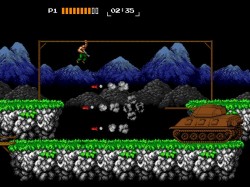 The levels themselves have an increased difficulty level as you progress – which only seems natural and the final one really manages to put the cherry on top of the cake of greatness. And then – BAM! – the game ends and you're wondering what to do.
Personally, I had to write this review for 8 Bit Commando, but after that I'll immediately load the game once more and try to beat my records. Which are actually some kind of lowcords since apparently I have completely lost my touch and I'm rusty as hell…
Either way, I would like to tell you that 8 Bit Commando is indeed a good game if you are a fan of the retro run-an-gun genre. The game is kind of short – it should take you around 1 hour to complete first then probably things should be a little bit faster, but it only costs $9.25, so I guess that it's a really fair price for a nice product.
Oh, and there's also a co-op mode that might add some extra value and excitement to 8 Bit Commando, but I'm a sad, lonely gamer and didn't get the chance to test it out. You can do it, though – as well as find out some extra details about the game on the 8 Bit Commando official page.