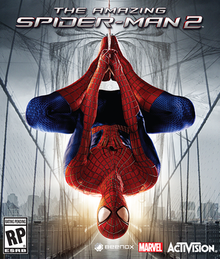 The Amazing Spider-Man 2 has swung to the top of the UK All Formats Chart in its debut week, ending the three-week stint at the top by Titanfall.
The sequel managed to beat its predecessor The Amazing Spider-Man's performance in the charts, which only managed second spot, despite a sales drop of 5% between the two, according to Chart Track.
Titanfall only slips down one place to second, and holds off FIFA 14, which climbs a place back into the Top three.
2014 FIFA World Cup Brazil drops down two places down to fourth this week, whilst Call of Duty: Ghosts rounds off the Top five.
Minecraft: Xbox 360 Edition continues its run in the charts, holding firm to sixth place this week, and LEGO: The Hobbit falls two places down to seventh. The other LEGO game in the Top 10, The LEGO Movie Videogame, holds onto eighth place.
Another new entry in the charts at ninth this week comes in the form of Child of Light. This received a deluxe edition for retail release, and saw a number of goodies such as a poster, art book, key ring etc. packaged with a digital copy of the game on PC and PlayStation. Battlefield 4 remains steady at 10th this week.
Elsewhere in the charts, the only new release to enter this week is 3DS game Mario Golf: World Tour, which enters at 22nd this week.
The UK All Formats Chart Top 10 (Week ending 3rd May 2014) is as follows:
1. (N) The Amazing Spider-Man 2
2. (1) Titanfall
3. (4) FIFA 14
4. (2) 2014 FIFA World Cup Brazil
5. (3) Call of Duty: Ghosts
6. (-) Minecraft: Xbox 360 Edition
7. (5) LEGO: The Hobbit
8. (-) The LEGO Movie Videogame
9. (N) Child of Light
10. (-) Battlefield 4
You can see the full Top 40 here.
Not much in terms of big releases next week, although I do think we could be seeing Bound in Flame make an appearance with its release across four consoles.