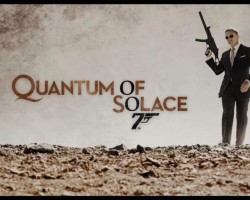 World's most famous secret agent, James Bond, is marking its return to video game consoles and PC systems in Quantum of Solace, a title developed by Activision and Treyarch which promises to be a lot of fun. If that very short demo released a while ago was not enough for you (I doubt it was for anybody), you can now go to the nearest game store to purchase the game – if you live in Europe. If you're in North America, you'll have to wait a bit longer for Quantum of Solace: until the 4th of November. Not much.

"Activision's Quantum of Solace video game marks the first time players can become the newly re-imagined, dangerous and cunningly efficient James Bond as portrayed by Daniel Craig," said Rob Kostich, Head of Marketing for Licensed Properties, Activision. "We're extremely pleased to release the game day and date with the new movie, so for those of us waiting for the new era in Bond gaming, Quantum of Solace has arrived."
As you probably know already, Quantum of Solace blends FPS action with third person elements (when in cover mode, for example) for the ultimate Bond experience. With visuals based on the CoD4 engine, this game here is a great option for those who like to intelligently maneuver each challenge, identifying the best course of action while incapacitating enemies through silent, sneaky covert operations or full force, guns-blazing confrontations. Read our Quantum of Solace preview to see for yourself and remember to check back for a full review!