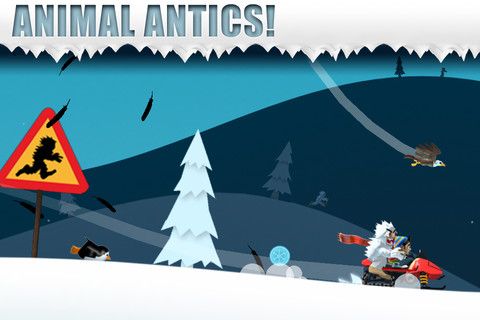 If you starting to get a little bit nostalgic about the winter that just passed and you own an iPhone, I have the game that might make that pain a lot more bearable: Ski Safari, a fun and easy game that you will only enjoy. It's just 99 cents too so it's cheaper than flying to some places where you can still find snow to ski.
And Ski Safari is also a great game, not just a cheap one. It has simply amazing visuals and a gameplay so addictive and fun that you won't believe the bargain that you got when you purchased it!
Our deep sleeping hero has to stay ahead of a relentless avalanche that threatens the local mountainsides. Sven, as we like to call him, can use animals to aid his escape from an icey end. Each of the hillside animals have different attributes to make a speedier escape. Penguins glide further, Yetis are tougher, Eagles soar to great heights, each of these can provide useful advantage for Sven. Sometimes on the slopes Sven can find fast Snowmobiles which can ferry multiple animals a maintain a very high top speed.
A great game, just as I said and also pretty easy, so it won't turn into a frustrating quest for survival. So make sure you download and play Ski Safari on your iPhone now!