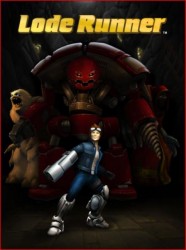 One of the most famous, successful and beloved franchises, Lode Runner, has just been revived in next-gen splendor on the Xbox Live Arcade by Tozai Games and SouthEnd Interactive. Except for the classic features that made the franchise a success, Lode Runner for XBLA comes with some extra features, to keep it up and running even today!
For those unfamiliar with the franchise, Lode Runner puts you in the shoes of a treasure hunting hero scampering across vertically-oriented levels in search of huge gold nuggets. Helped by you, he must run, climb, and shimmy his way through ingeniously designed levels to grab hold of the treasures, while also avoiding any contact with the creatures pursuing him.
As I said, the new Lode Runner has a bunch of extra features, including multiplayer modes for up to four players, which is played "like a game of tag", plus other new additions, like teleporters, invisible blocks and so on. Also, there is a level editor incorporated, so you will (probably) have an endless number of levels to play on.
You can purchase Lode Runner for 1,200 MS Points.