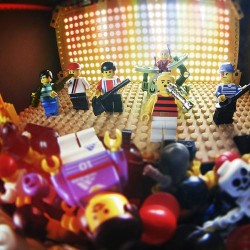 Some still find it hard to believe, others consider it plain pointless, but it's true: LEGO Rock Band, as rumored a long time ago, is for real and details started to appear regarding the final product. Details which are as ridiculous and pointless as the entire title appears to be. However, if you're up for a good laugh or you're feeling a bit grumpy right now, check out the LEGO Rock Band Details below (but really – take a deep breath of air before reading!)
So… LEGO Rock Band will give you:
– Songs you know and love: Rock out to everything from current radio hits to past favorites the whole family will enjoy.
– LEGO-themed rock challenges: Play killer riffs to destroy a giant robot, summon a storm, and demolish a skyscraper using the power of rock!
– Enhanced customizer: Don't stop with your avatar, customize your whole entourage! Design the band, roadies, and manager just the way you want.
– Build fame LEGO-style: Collect LEGO bricks after each song to build cooler vehicles and move to new venues
– LEGO rock den: Buy furniture, decorate the walls and customize your band's hang-out as you climb the ladder to rock success.
– Fun for everyone: Turn down the difficulty with an easier skill set option for budding musicians.
"Fun for everyone", right? I'd personally go for "funny", but I could be wrong. What do you think about LEGO Rock Band?