FarmVille is the latest social game to celebrate the upcoming Valentines Day with a bunch of new items, including fresh new crops, new giftables to send to our friends, new decorative items and even new animals! To find out everything about the new FarmVille limited edition Valentines Day items, read on!
We'll start with the new giftables, heart-shaped hay bales (see them in the image to the left, click to enlarge!): Pink heart hay, Red Hear Hay and White Heart Hay. Also, a Sunflower Bucket is available as a Farmville.com exclusive gift but I doubt it can be considered a Valentines Day item.
We also have three new and wonderful limited edition crops to plant on our farm and at the same time celebrate Valentines Day:
The amazingly beautiful Fire&Ice Roses (150 coins to plant, ready in 16 hours, sells for 350 coins, gives 3 XP)
The Yellow Roses (20 coins to plant, ready in 2 days, sells for 200 coins, gives 3 XP)
The White Roses (75 coins to plant, ready in 1 day, sells for 275 coins, gives 3 XP)
Check out the three new roses below:
Finally, the last Valentines Day update in FarmVille brings us brand new animals: the Pink Patch Cow (costs 14 FV cash) and the Hot Pink Pig (12 FV cash).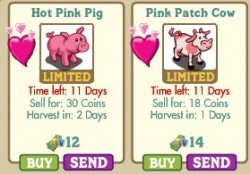 Pretty cool new items, don't you think?