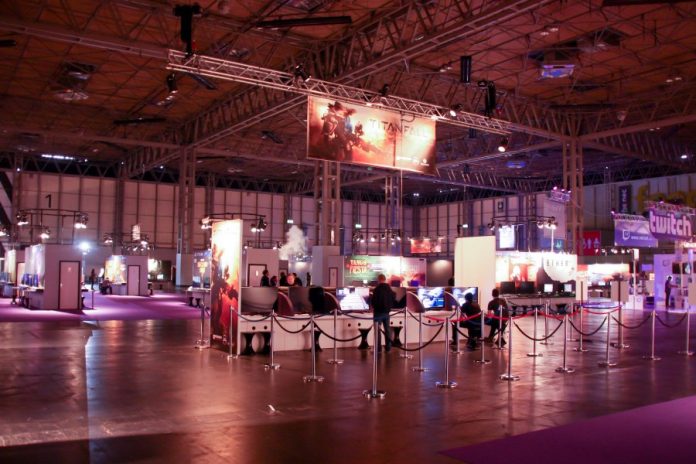 It's only a few months away and we're already exited. EGX London, the UK's largest, friendliest and most exiting games expo will be opening its doors to 80,000 gamers from the 25th to the 28th of September this year. There's no better place in the UK to get the inside scoop on the ever-frantic happenings of the gaming industry, so what's to be expected at Earls Court this year?
In true gaming expo style, there's a ton of yet to be released titles for attendees to get their grubby mitts on. There's literally thousands of screens set to be powered up, and plenty of gaming experiences to enjoy. Sony have announced a rather indie-focused lineup, and players will be able to play 2D top down action title, Hotline Miami 2: Wrong Number, side scrolling brawler Foul Play, stellar vertical open worlder Infamous: Second Son, fun-filled octopedian adventure Octotodad: Dadliest Catch, Sci-Fi blaster Final Horizon, and the award winning The Swapper. InXile Entertainment's upcoming post apocalyptic RPG, Wasteland 2, will also be playable, an exciting prospect given that its prequel was released way back in 1988! The Creative Assembly will also be present with Alien Isolation, affording players the chance to play as the daughter of the hit series' heroine, Amanda Ripley, as she embarks on a Xenomorph-packed quest to find the black box of the Nostromo.
Now it wouldn't be an EGX without the chance for players to get face to face with the developers; previous years have seen top developers such as Hideo Kojima, David Cage and Phil Harrison, and this year is unlikely to be any different. EGX are being tight-lipped on this years' bookings, but we can be sure there'll be some big hitters and huge announcements lined up.
For those less enamoured with traditional video gaming, there's still plenty to do. EGX London's second cosplay stage will be a fixture of the event, with panel sessions devoted to all aspects of cosplay culture, and fun filled, prize-choked masquerades where those dressing up for the event will have a chance to win. If you're in to winning, head over to gamingclub's bush telegraph slots for an early chance to win big!
Lovers of indie games will have cause to celebrate with EGX's Leftfield Collection, and players will be able to sample the best of indie creativity, away from the many franchises and blockbuster titles inhabiting the event. Joe Danger, Proteus and Frozen Synapse featured in previous years, and this year's will have an equally stunning lineup. Also set to make an appearance is the retro gaming stand where players can get back to grips with all those wonderful old titles from days gone by.
Competitive gaming makes a gaming show and EGX is gearing up to provide a variety of tournaments and competitions for gamers, including an entire stage devoted to fighting games and a return of the incredibly popular Minecraft Hunger Games tournament area. We're positively salivating at the prospect; just don't look the Enderman in the eyes!