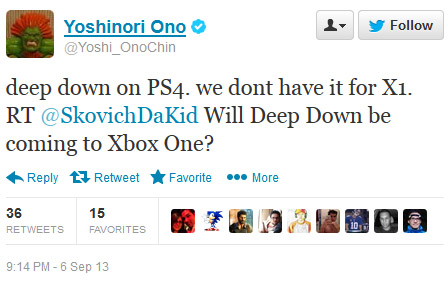 Deep Down, a brand new IP from Capcom, was originally revealed back in February at Sony's PS4 unveiling conference. A beautiful trailer was shown, (which claimed to be all game play footage but speculation made us believe otherwise), and nothing else. Capcom detailed that the game will be using the Japanese company's new Panta Rhei engine. An engine specifically designed for next-gen consoles. Ever since February details have been scarce, until now.
In an intriguing tweet from the game's creative director, Yoshinori Ono revealed that Deep Down is a PS4 only title. He was responding to a question posed by a fan asking if the game will be heading for the Xbox One. Ono answered by saying "we don't have it for X1." Many suspected that Deep Down just might have been a PS4 exclusive, but 3rd-party exclusivity has all but died and Capcom predominantly likes to release their games for both major platforms.
Another thing Ono revealed was the game's setting. During his presence at Sony's pre-TGS press conference he announced that Deep Down will take place in New York in the year 2094. In almost Assassins Creed fashion your character will able to read memories trapped in monuments and artifacts, which will enable you to relive and explore them. The game's maps are also generated and monsters are randomized. A co-op mode was announced as well that can support up to three players.
A demo for Deep Down will be playable at Tokyo Game Show, so expect further details in the future.
(Via: IGN)