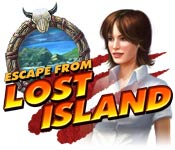 It's been a while since I played a high quality casual game and Escape from Lost Island is exactly what I needed: a fun, challenging and quite innovative hidden object game available for purchase over at Big Fish Games. What makes Escape from Lost Island such a great game? Read on to find out!
First of all, there is the game's story: When the fancy cruise ship you're on starts sinking, it's a fight to stay alive! Once you manage to get off the sinking cruise ship, you need to survive on an uncharted island! Use your wits to find shelter, avert pirates, escape from the natives, and signal civilization to organize your rescue in Escape from Lost Island. Explore gorgeous Hidden Object scenes and find helpful items that'll make your journey easier.
Gameplay-wise, you will notice some changes compared to your regular hidden object games, the main change being the existence of "unlockable" hidden objects, meaning that you'll first need to find an object before knowing which is the next one you need. Quite a challenge, that's correct!
Escape from Lost Island also features some really cool graphics and a loveable main character and I am sure you'll enjoy playing the game if you're a fan of the genre. Head over to Big Fish Games and try the game out or purchase it directly for just 7 bucks. Have fun and don't forget to share your opinion about the game here!