With the year 2015 just around the corner, we've decided to look back at all the hidden object adventure games released in 2014 to select the best of best, the 10 titles that everybody should play. Below we have the best hidden object adventure games of 2014, with a surprise winner and countless hours of entertainment, combined from all these great titles.
But let's not waste any more time talking and instead let's check out the best hidden object games of 2014, according to the Unigamesity staff!
10. Agency 33
I wasn't expecting to ever have a free to play game on the list, but Agency 33 deserves a spot in the top 10, even though many people don't really enjoy the freemium type of play. However, it can be enjoyed free of charge if you are patient enough and it has a little bit of something for everybody and totally deserves its place here on our top games list. In the game, you're a new recruit for a secret organization known only as Agency 33 racing to save the world one hidden object scene at a time. And since it's a free to play game, I think you should start out with it – click here to check it out.
9. Mystery Trackers: Blackrow's Secret
It's been two hundred years since the plague swept through here… Authorities quarantined the area around Blackrow Mansion, and it hasn't been opened since. But now, an up-and-coming starlet is receiving strange threats that have drawn her straight to the quarantine zone. What is hiding behind the rusted gates of the Forbidden District? Play innovative new mini-games and explore gorgeous hidden-object puzzles as you track down the truth behind Blackrow's secret! Click here to check it out.
8. Mystery Case Files: Dire Grove, Sacred Grove
Dire Grove has been plunged into a record-defying cold, and wild animals threaten at every turn! You've been called in to uncover the source of the town's troubles. But you quickly find yourself in the middle of a feud between the local hunters and the mysterious Mistwalkers who live in the woods. Can you prevent an all-out war? Pick your gender and use an innovative deduction mechanic as you try to discover the secret behind Dire Grove's curse! Try out the game at Big Fish Games.
7. Labyrinths of the World: Shattered Soul
Your sister Margaret wrote you about a strange invention. When you arrive to visit her, she's vanished! What's left behind are the traces of a bizarre event: Margaret's soul has been broken into fragments and placed in different worlds, where they'll be used as part of a mysterious device. It's up to you to save not just Margaret's soul – but the fate of each world in turn as you navigate the labyrinths and plot twists in this exciting hidden-object puzzle adventure game available here.
6. Grim Tales: The Vengeance
You've been summoned to court to provide testimony in a trial against your nephew James, who stands accused of murdering his sister. By using your power to learn an object's history simply by touching it, you must examine evidence from the crime scene to determine what really happened to Elizabeth. Can you prove James innocent and find the real killer? As you explore the family mansion, a dark force is trying to cover up the truth! Find out more about this great game here.
5. Dark Parables: Jack and the Sky Kingdom
The legendary Sky Kingdom suddenly appears and a destructive barrage is unleashed upon an unsuspecting town. Play as the Fairytale Detective and embark on an investigation to rescue the townspeople. In this quest, you will meet Jack – an infamous treasure hunter who shares a secret past with the Kingdom – and discover the tragic history behind the chaos. Click here to check out the game.
4. Grim Legends 2: Song of the Dark Swan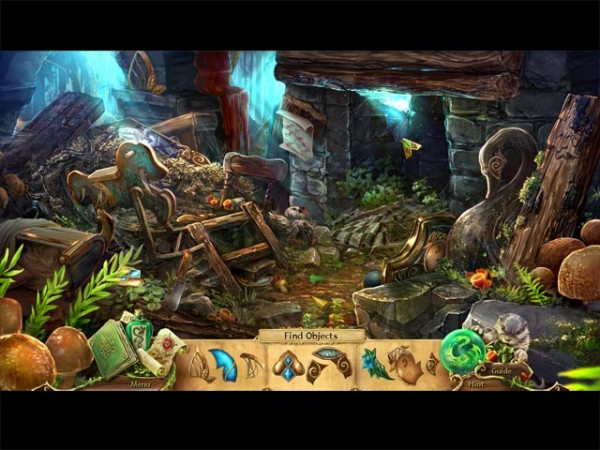 Your healing skills are world-renowned, and you are summoned to the Kingdom of Eagles to cure a young queen who cannot speak. Just after your arrival, the infant prince is kidnapped, and the queen is accused of dark magic, sentenced to death. Use your herbalism skills to solve puzzles and track down the real culprit. Not everything is as it seems and even the young queen has a dark secret of her own. Bring light back to the Swan Kingdom in this enchanting hidden-object puzzle adventure game. Available over at Big Fish Games.
3. Dark Parables: Ballad of Rapunzel
You've been called to the kingdom of Floralia to track down the source of a mysterious pollen spreading throughout the world. Rumor has it that Princess Rapunzel is somehow involved – the haunting melody she sings appears to summon the pollen… But how did the once-loved princess come to control such a deadly force? And who is the mysterious, shadowy figure always by her side? Click here to find out.
2. Myths of the World: Black Rose
Vampire hunting is a full-time job, and your latest lead has brought you and your partner to Louisiana. Hop aboard a Mississippi River cruise, and get to work! You must investigate the riverboat passengers to expose a vampire who's carrying an ancient artifact that could spell disaster in the wrong hands. Just be wary of who you trust… Even a seemingly normal person might be under the spell of the cunning vampire, luring you into a trap. Uncover the clues and unmask the true villain in this heart-pounding Hidden Object Puzzle Adventure game available here.
1. Dark Realm: Queen of Flames
The evening started like any other in your village. But without warning, a group of mysterious figures arrives and reduces the town to flames and rubble. What are they… and who is controlling them? Your only way to find out is to flee the village and seek help from the Queen. But you'll have to lie low to avoid becoming another minion of the flame banshees. Use special abilities and power-ups to make your way through a mystical world in this thrilling Hidden Object Puzzle Adventure, the winner of Unigamesity's Hidden Object Adventure game of the year! Click here to check it out!
So these are, in our opinion, the best hidden object games that we have played in 2014. You should try them all out in case you haven't done so already – and after you do, let us know which was your favorite!