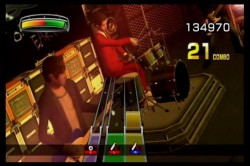 We all know that rhythm games are quite successful nowadays, with Guitar Hero and Rock Band recording impressive sales, so it's no wonder to see even more similar games released even though, as I said before, the music genre is dead. 505 Games clearly disagrees with that statement and plans to prove me wrong with We Rock: Drum King, a Nintendo Wii exclusive that's set to hit European shores in April 2009.
The strong point of We Rock: Drum King (why on Earth didn't they call it Wii Rock?) is the fact that it's a game released with the words "economy" in mind. Therefore, you won't have to purchase any drums or any other expensive instruments – you will only need two Wiimotes and, of course, the game. Which comes with 30 tracks, including classics like including Bloc Party's Banquet and Born To Be Wild by Steppenwolf.
In order to become THE Drum King, you'll have to start by creating your drummer and joining your band, then learning how to get the most out of the songs you'll play – the gameplay is similar to that of GH or RB or any other rhythm games: the game is played by moving the remotes as if you're 'air drumming'. Different drums – including snare, toms, hi-hat and bass – are simulated by waving the Wii Remotes while pressing a different button.
Now, all it's left for us to do is wait for 505 Games to release We Rock: Drum King and see if it can really challenge the older and more renowned games from Harmonix and Neversoft. Until then, you can check out a few screenshots below: