These days the smartphones and internet is the need of time. But, one of the unfortunate reality of the internet is that there is no privacy of you. Where you are going and which is your current location is not anyprivacy. Whether it is a dating app, gaming app, online shopping, or any other app, Google, as well as internet tracking you everywhere.
It is very annoying that someone tracking you every time and there is no privacy. To overcome this issue,the fake GPS location is a great trick.
By changing your location, you'll be able to improve your online privacy and can make people believe that you are in abroad. Plus, it allows you to watch the latest movies and play Pokémon Go in all corners of the globe.
Also, there are many more reasons to hide your current location and to spoof GPS. In this article, we will discuss the interesting and true reasons to spoof location. Also, to help you, we will guide you with the best location spoofing solutions for Android and iOS.
Part 1: Reasons to spoof location-based apps
Change-GPS-Location-1
Catch Pokémon all over the globe
Pokémon Go is a very famous game, which is a location-based AR game. If you are a lover of POGO, then location spoofing is best for you. By spoofing Pokémon Go, you can catch more Pokémon in less time and go to any city without actually moving.
Also, fake GPS is a great way to fool the Pokémon and to hatch eggs out of your area. It gives you more gym options and pokestops, which may not be present in your location. The best part is that you can spoof your location anywhere in the world to catch rare Pokémon as well.
In addition to Pokémon, fake GPS iOSand Android is best for all location-based gaming apps like Ingress, Harry Potter, and more.
Get more compatible matches on dating apps
Whether you are using Tinder or GrindrXtra to find a compatible partner, a fake location helps you with all. By using a fake GPS trick, you can look for the partner from other locations or around the globe.
It is because sometimes swiping through profiles become really disappointing. To overcome the disappointment, you can increase the chances of having profiles from other locations with fake GPS.
Watch the movies and TV shows on video streaming apps
Change-GPS-Location-2
Every country does not offer access to many video streaming apps of another country. These days, video streaming companies like Netflix, Amazon Prime Video, Hulu, and more offer good content.
You can watch the content from these sites through fake GPS tricks. For example, say Netflix is not available in your country, but you want to see a series on it, then you can do that with a fake GPS option.
All in all, location changer tricks will dramatically improve the way you stream online content.
As earlier, we discussed that Google and the internet track you everywhere, which somehow is a concern of privacy. You can protect your privacy by spoofing GPS or by changing your location on Android as well as iOS. Location spoofing helps hide your current location and improve your online presence.
Part 2: How to Fake GPS on iPhone or iPad
If you own an iPhone, then you might know how difficult it is to spoof GPS on it. iPhone comes with many safety features that need a reliable and trusted app to fake GPS iOS.
When looking for the safest way to fake location on the iPhone, look no further than Dr.Fone – Virtual Location (iOS). It is a great tool to change location on iOS devices as it doesn't breach your data and causes no harm to your iPhone's data as well.
Features of Dr.Fone-Virtual Location
It allows you to Teleport iPhone GPS to anywhere in the world without actually moving to that place.
With Dr.Fone location changer tool, you are able to define or create a route between two spots and between multi-spots.
You can also simulate your walking speed, cycling speed, and driving speed to reach your destination.
The best part is that Dr.Fone-Virtual Location is best suited for all location-based apps, including Pokémon Go and GrindrXtra.
It causes no harm to your device and is safe to use on all iOS devices, including iOS 14.
Steps to use Dr.Fone to spoof location on iOS
First, download the Dr.Fone from the official site on your system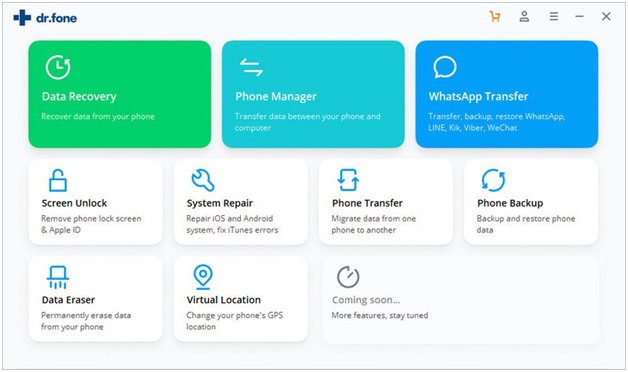 Change-GPS-Location-3
Now, install it and launch it by connecting your device to the system
Click on the "get started" button to go to the home screen of the tool
You will see a world map on the screen, tap on "center" to locate your current location
Change-GPS-Location-4
Now, select the teleport more or multi-stop mode from the top right corner on the map window
In the search bar, you can look for your desired location and click on "go" to teleport the fake location on iOS
Change-GPS-Location-5
On the map, you can also click the "move here" button to reach your fake destination
This is how you can spoof any location-based app on iOS. Dr.Fone-Virtual location app is easy to use and is easy to install as well on all versions of iOS.
Part 3: How to fake GPS on Android
Spoofing location on Android is much easy as compared to iOS. There are many free fake GPS apps for Android that you can install from Google Play store to spoof your location.
Also, you can use a VPN network to spoof location on android devices. But, before using any method, you will need to enable developer options on your android device. For this, you will need to locate the build number under settings and about the phone. Tap on build number seven-time, and this will enable the developer option.
After this, you can install any location spoofing app and can use it to hide your current location.
Conclusion
As of now, you know reasons to change location or to fake GPS iOS, use the best way to spoof your device's location. Never compromise with the safety of your iPhone and use the best spoofing tool like Dr.Fone-Virtual Location to fake GPS on iPhone. Try it once!