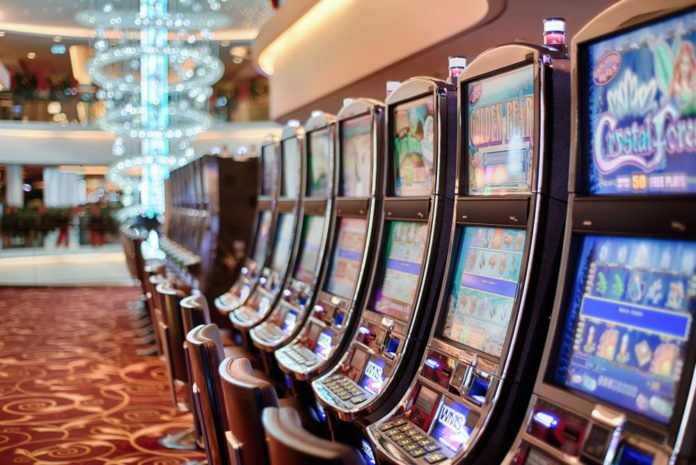 All slots machines have a built-in return to player percentage (RTP%) which determines, theoretically, how much edge the slot machine has. The higher the RTP% the more the slot machine pays out over the long term… and by this we mean thousands and thousands of spins.
There are hundreds of slot machine software developers out there and tens of thousands of games but some slots are better than others and we're here to take a look at the top 5 machines with the highest payouts.
#5 Mega Joker By NetEntertainment (98.90% RTP)
Coming in at number 5 on our list of the best slots is NetEnt's Mega Joker slot machine. It's very much a classic style slot game which is played across 3 reels and 5 pay-lines. Coin denominations range from 0.10-1 and the max bet per spin is 10 coins total.
In style this slot isn't dissimilar to a pub fruit machine and it looks like something you'd expect to see in a 1980's Las Vegas gambling movie. It's not going to appeal to video slot players, who'll be expecting graphics and bonus round, but it's not a bad beginner slot given its simplicity and RTP%.
You won't get fancy graphics with this slot but you will get one of the best payout rates around at 98.90%.
#4 Ohh Ahh Dracula By Barcrest (99.00%)
In 4th place on our list comes Ohh Ahh Dracula, a Barcrest creation with a return to player percetange of 99%. To benefit from this high paying rate though you do have to play the machine in its higher stakes modes so for most this is likely best avoided.
It's slapstick theming and wide bet level (0.01-500 coins per spin) makes it accessible to all but at the lower stakes it only pays at 96%, a much less appealing rate we're sure you'll agree.
#3 Monopoly Big Event By Barcrest (99.00%)
If you're a fan of the board game then it's likely you're going to be a fan of this slot machine. Barcrest have a number of Monopoly titles but Big Event offers the best payout rates to players.
As you guessed it's very much themed around the board game with symbols which depict places and characters in the game. Various bonus rounds are available and when compared to other slots on our list this one falls very much more into the modern, video slots, category.
Again though Barcrest reserve the highest returns for the bigger stakes punters so if that's not you then we suggest moving on to one of the next three options. Playing slots for high stakes can get pricey and given the house always wins we think you're better off having fun and keeping the stakes lower.
#2 Ugga Bugga By Playtech (99.07%)
Ugga Bugga is a unique offering from Playtech as it offers players the chance to spin across 3 reels but the slot the slot has 10 paylines with 10 sets of reels. It sound a little confusing and it is at first but once you get the hand of it it's easy.
In terms of bonus games and gamble features… there's nothing to talk about but there is a Wild symbol which pays x1000 the line bet if you land it… which as you can imagine is well worth doing.
It's themed around a jungle and it's very 2D but with a payout percentage of 99.07% you'd be hard pressed to find a slot game with a lower house edge.
Well actually there is one, but only one that we can find.
#1 Goblins Cave By Playtech (99.32%)
In gold medal position, when it comes to returns, is Goblins Cave. This Playtech slot machine offers an unprecedented 99.32 return to player percentage and again is perfect for beginners.
The game itself is played across just 3 reels and 3 pay-lines making the action easy to follow and winnings quick to work out. You can bet anything from 0.10-5 coins per spin and the payout rate doesn't change regardless of the stakes you're playing for.
Goblins Cave is very much a classic slot style, which some will definitely prefer, but for others it won't quite offer enough features to keep you interested. Regardless it offers a better deal than the vast majority of modern slots which tend to stick in the 90-96% ranges.