2012 was an amazing year for the PC games industry and by the looks of it, 2013 will be even better. We have a lineup of amazing games being released this year and creating this list of just a few titles was really difficult because top games had to be left out. However, it had to be done and I am sure you are curious to see it, so let's not waste any time and let's check out the top 13 Best PC games of 2013 (games to be released this year).
Godus
This is indeed an indie game that could be a big failure and disappointment, but it's Peter Molyneux working on it and he's known for his great ideas when it comes to creating computer and video games. And putting the god game back on the market is something that we're really looking forward to and we can only hop that Godus will exceed all the expectations and deliver an amazing experience, sometime in September when we're expecting to see this game released.
Dead State
This is a pretty unknown title, but we do believe that we have all the right reasons to put it on the most wanted list this year. It's about the zombie apocalypse, it's an RPG and even though it doesn't seem to be ready to deliver too much eye candy, it sure has a lot of promise in terms of gameplay and the simulation of the zombie apocalypse with tough decisions to be made too often. Expect to be able to get this game in December.
Call of Duty Modern Warfare 4
The CoD franchise manages to always draw a lot of hate from gamers and it's almost taboo to write "Call of Duty" in a "Best upcoming games" list, but it has to be done. Activision's franchise is one of the most popular and best sold in the world, with millions of players waiting to play the latest Call of Duty game as soon as it's out. The same stands for Modern Warfare 4 which will certainly be a financial hit if nothing more.
Star Wars 1313
A game set in the Star Wars universe, published by LucasArts? Yes, thank you! A bounty hunter trying to get out of a conspiracy, in the Star Wars universe? Yes, thank you! Guns and gadgets and ships and lightsabers in the Star Wars universe? Yes, thank you! All these and more at the end of 2013, just before Christmas. Yes, thank you!
SimCity
This time we're talking about a "real" game, not the casual and cartoonish experience we got with the previous release. EA's SimCity promises to bring back all the complexity and amazement of the original city building sim and we can only be excited about it. And it's coming relatively soon, in early March.
Dead Space 3
Horror and scares, with added insanity mechanics and a co-op multiplayer options, all set in the twisted and dark Dead Space universe. These are enough reasons to make me put Dead Space 3 on the "most anticipated" list, and swear that I will never play it. Thank you, but I like my heart safe and sound and I'm getting too old for all the scares and horror. But you certainly are not, and February 8th is the date you need to mark on your calendar for Dead Space 3.
Dragon Age 3: Inquisition
The second game in the series managed to disappoint a lot of people, but we still haven't lost faith in Dragon Age and we hope that the third will bring back the glory of the original game. We should expect a more tactical game set in a bigger world than that of the original game, more characters and a new protagonist. All the ingredients required for a brand new and extremely positive start.
Tomb Raider
The popular series is being re-invented and we get a young but still breasty Lara Croft stranded on an island, ready to fight bad guys and explore and do what she does best: jiggle them goodies. Jokes aside, this does look like a really hot entry in the Tomb Raider series, one that adds multiplayer. Not multiple Laras, unfortunately. Expect to play the game on March 5 this year.
Remember ME
Lost memories, a special agent fighting to get them back, a future that doesn't look like something we'd like to have – these are the bits that make Remember ME a really anticipated title. Add to that the combat system that seems to be incredibly complex and amazing, acrobatics and a hot female protagonist and you have all your reasons to get excited about the month of May when the game is set to be released by Capcom.
Grand Theft Auto 5
There is little to be said about a Grand Theft Auto game except that "it's coming, get ready!" And this should be it, because the rest we already know: set in an open world environment, we'll do some robbing, some driving, a lot of stealing and shooting and most likely charm a few hot ladies along the way. This time though you will be playing as three different characters, which should be enough to add extra diversity to the game. Not confirmed for a PC release, but all the previous ones eventually came to PCs, so we know this will come too. We just don't know when.
Watch Dogs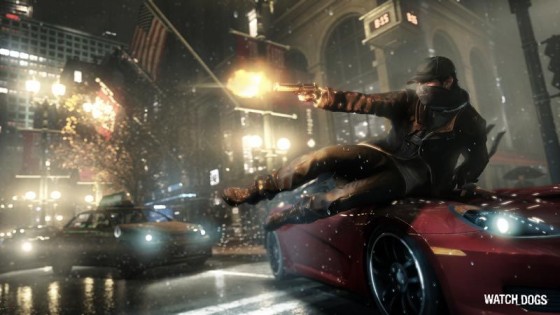 A new IP from Ubisoft, who have been happy to milk the existing franchises so far. A risk, indeed, but one that looks amazing for us, the gamers: a brand new title that puts the action back on the map in an open world environment where technology and most likely multiplayer will be a match made in heaven. Add to that a charming anti-hero and the ability to hack and destroy and you have enough reasons to be excited about Watch Dogs, coming in late 2013.
The Elder Scrolls Online
An Elder Scrolls game will always make it to a most wanted list and this time we're talking about a first in the series: a MMORPG created to allow us to explore the entire continent of Tamriel. There are a lot of things that can go wrong in a MMO and it's a big gamble for Bethesda, but if they manage to do it right, we might just get a new MMORPG king this year! The game is expected to hit the servers sometime in mid 2013.
Bioshock Infinite

2K Games decided to take a gamble setting their upcoming Bioshock game in a parallel universe where we'll have few things in common with the original, but what we've seen so far makes us believe that we're up for a real treat. A flying city, a surprising art deco style, the new vigors and your ever-present girl companion are certainly reasons to be very excited about Bioshock Infinite.
And these are 13 of the most anticipated games of 2013 and obviously titles that will battle at the end of the year for the trophy of "game of the year". Let us know which are your favorites and stay tuned with Unigamesity for even more "best upcoming" lists based on genres and with low name games that are extremely exciting!