Tomodachi Life, which loosely translates to Friend Collection, has finally been released to Western audiences after a long time being only available to Japanese 3DS owners. The game itself is a mix between Animal Crossing and The Sims and over the next week I'll be reporting my diary on a daily basis as a review-in-progress of sorts an then draw my final conclusions at the end of that period. If there's anything specific you would like to know about the game, hit up the comments section and I'll do my best to answer your questions.
Welcome to Escape Island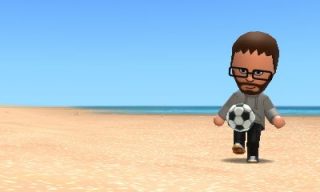 So first things first, as soon as I booted up Tomodachi Life I had to set up my character and island. I named the island Escape Island for obvious reasons (escaping the dull real world) and dropped myself in to the deep end to see what the place had to offer me. The first thing I notice about playing Tomodachi Life is how involved I needed to be – from the trailers and Nintendo Direct information I had the distinct impression I'd basically put myself on the island and watch him interact with others on the island and let the madness commence. This really wasn't the case, but I made an effort to get involved and see what happened.
I got to read the news! When certain events happen in Tomodachi Life, different buildings and shops open up – I had a whole bunch of shops open up to provide food, clothes and even an event stage to perform on and when something unlocks you get a news report to let you know which was pretty cool. Tomodachi Life is slowly opening up to allow for new events and experiences to kick off. I added the immediate family, those in the room as I played – my girlfriend and the cats (as humans – which is as odd as it sounds) so that I had some other islanders to interact with. Gameplay in Tomodachi Life appears to be a series of bizarre mini games – so far I've helped someone sneeze by rubbing a feather over their nose and lost a wrestling match to the other half!
Tomodachi me and the other half had a fight and fell out – the girlfriend didn't seem bothered but I was walking around with a rain cloud over my head which sounds about right. Apparently the fight was all over a teddy bear I was unaware either of us had and which one of us could make teddy the happiest. I tried to patch things up but in the end the only way I could cheer myself up was by buying my happiness with a new pair of headphones, which also sounds about right. Tomodachi Life does have a very strange way of mirroring reality without me trying to sway it to play out that way.
I didn't spend a great deal of time with Tomodachi Life on either of my first two days on the island – it doesn't seem to have the addiction factor that Animal Crossing does, but I'll keep dropping in to see what's going on. The synthesised voice acting is strange but highly amusing and I'm sure there will be plenty more random events over the course of the next week to report back on.
Come to Escape Island
Here is my QR code – if you are playing Tomodachi Life, scanning this code will invite me to your island. Let me know in the comments or via email if you are playing and send me your QR code and who knows, you might well be involved in one of the coming diaries.
Check back over the next week to keep updated on Tomodachi me and the events of Escape Island.