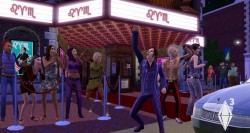 The Sims 3 promises to take EA's successful franchise to a whole new level when it will finally be released. And, even though many would believe that creating a soundtrack for The Sims 3 is not necessary a priority, Electronic Arts prove that they want everything done flawlessly this time: they hired renowned composer Steve Jablonsky to score the theme music.

Jablonsky composed music for films and TV shows like Transformers, The Island, Desperate Housewives and recently marked his entrance in computer games, scoring the soundtrack for Command and Conquer 3: Kane's Wrath. In addition to the theme music, Jablonsky's score will be featured throughout key areas of the game, such as Create a Sim or the fans' favorite build mode.
"It is extremely exciting to be involved in a blockbuster project such as The Sims 3, where the music sets the tone for the entire user experience," said Jablonsky. "Working on one of the most anticipated games in the world, not to mention the best selling PC franchise of all time, is quite an honor and I've had a blast getting to know The Sims 3 team of talented individuals."
So, slowly, The Sims 3 starts tie the final knots and the release date is approaching. The future of the most successful PC franchise in the history of gaming will be decided by this game, so we're pretty curious to find out how it all turned out.