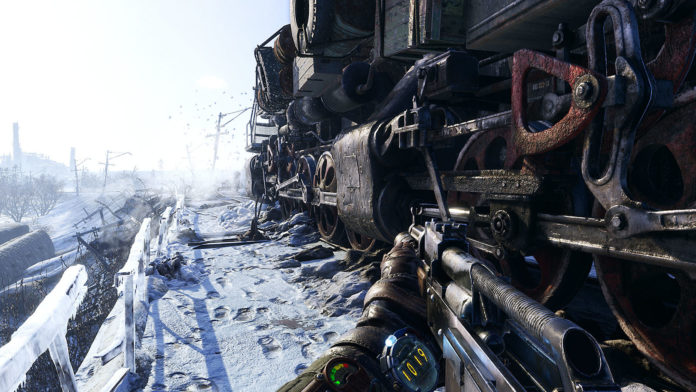 February is undoubtedly the month of love. A symbolic tribute to our unwavering passion for video games, of course. In truth, January served up a smorgasbord of smash-hits. From the much-anticipated Resident Evil 2 Remake and Tales of Vesperia to the loveably endearing My Time at Portia. The titles came in thick and fast.
Though that may be true, February's line-up promised to wipe the floor, with a succession of big-budget releases. Plus, the return of many a fan favorite. With that in mind, let's review February's illustrious list of games, and uncover those must-have gems worthy of a place in your library. Here is our list of the best PC games of February 2019.
Apex Legends
Next up we have Apex Legends. The battle-royale genre, albeit, a force to be reckoned with, is somewhat oversaturated. In short, it has become a monumental challenge to defy convention and genuinely stand-out. Often the all-too-familiar themes are copied and pasted from one game to the next. Luckily, Apex Legends breaks-free from the typecasts associated with the genre.
Mainly, it does this by prioritizing team-play over individual gains. Better still, its streamlined systems and user-friendly mechanics allow for a free-flowing experience. All in all, Apex Legends, injects a much-needed dose of controlled adrenaline, into the rather anaemic battle-royale genre. Finally, Fortnite has a real contender. Surely then, an entry worthy of a spot on our list of the best PC games of February 2019.
The game is Free-to-play for PC and you can download it from Origin.
Metro Exodus
The third instalment in the series breaks away from Moscow's gritty subterranean underbelly, to reveal life on the surface. Lead protagonist Artyom reprises his role, as he ventures top-side to explore the aftermath of nuclear devastation. Contrary to previous entries, Metro Exodus opens-up it fabled linear roots, to incorporate open-world elements within a sandbox construct. Of course, it's a change not free from controversy.
That said, the overall polish coupled with its pristine visuals and slick in-game systems create an intense survival shooter, that still holds a meaningful story despite the departure — an essential play for fans of Survival horror. Therefore, fitting of a place on this list of the best PC games of February 2019.
The game can be purchased from Cdkeys.com ( Note: This website doesn't purchase directly from developers, but we haven't had an issue with them so far ).
Anthem
Fourth to grace this list is Anthem. In truth, Anthem failed to deliver on many of the critic's expectations. After the fall-out from Andromeda, the general assumption was that Bioware would rectify past wrongs and wipe the slate clean with Anthem.
Although the game isn't without its flaws, Anthem is still a blast to play. Especially with friends. Besides, flying in high-powered javelin suits, and taking down goliath beasts with super-tight gunplay are both fun and addicting pastimes. Rightfully then, earning a place on our list of the best PC games of February 2019.
The game can be purchased from Cdkeys.com ( Note: This website doesn't purchase directly from developers, but our readers used it and claims its legit – 90% excellent grades on Trustpilot).
Wargroove
Wargroove may look like your average, retro-styled, turn-based affair but that couldn't be further from the truth. Taking on the mantel from genre-greats such as Advanced Wars, Wargroove not only looks the part but plays the role to perfection. Aside from the dazzling, high-resolution pixel art and integrated online play, the beauty of this game lies in the intricate battle systems at play and the flexibility of its strategic elements.
For the most part, every face-off feels unique, while each choice has value and relevance. In short, Wargroove is a fun blast from the past, that not only pays tribute to the old games but elaborates on those core themes with style, depth, and beauty. In truth, the scope of its systems will provide even the most experienced veterans with gratifying outcomes. Those with a soft spot for turn-based strategy will want to check out this game, taking the genre by storm — reason alone to give this game a place on the best PC games of February 2019.
You can buy Wargroove for PC from CdKeys.
Dirt Rally 2.0
Despite this racer's steep learning curve, taking to the dirt has never been more empowering. Thanks to finely-tuned handling, excellent sound design, and decent visuals, Dirt Rally 2.0 cements its place at the top. At least as far as rally sims go.
Feeling the mud shift and spray as you slip-slide your way into first place brings both elation and ecstasy at every turn. Better still, its tight and responsive handling places you firmly in the driving seat, from the starting line to the finish. All in all, Dirt Rally 2.0 gears itself towards genre vets, but mastery of its systems will issue ample rewards. An apt entry on our list of the best PC games of February 2019.
All in all, 2019 has started with a bang. Both January and February have produced some excellent titles, and with the year not long begun, the future is bright for PC and the video games industry at large. March promises to be another great month, with Tom Clancy's The Division 2, Sekiro Shadows Die Twice, Tropico 6 and Left Alive all set to take centre stage. So then, which entries will stake a claim for the best games of March 2019. Stayed tuned for more updates in the days and weeks to come.
You can buy Dirt 2 for PC from CdKeys.
Ace Combat 7: Skies Unknown
We know this game was not launched in February, but we had so much fun playing it that we felt bad we didn't include it in our Best PC Games for January 2019 article.
For those that require a change of pace from the ground-pounding gunplay of FPS shooters, Ace Combat 7 comes as a welcome deviation from the norm. The long-standing series has seen many iterations over the years. Some of which have soared to great heights, while others have crashed and burned. Thankfully, Ace Combat 7 belongs in the former category.
As a result, cruising at high altitude with overpowered Fighter Jets has never felt as responsive and rewarding as it does in Ace Combat 7. On top of that, the profoundly impactful story, varied mission types, and unpredictable dog-fights make taking to the skies an exhilarating joy-ride of emotion. A great way to kickstart this list of the best PC games of February 2019.
This game can be bought from Fanatical – which have 100% genuine stock purchased directly from developers.
That wraps up our list of the best PC games of February 2019. Which titles did you fork-out for this Month? Did we miss out any stand-out gems? Have your say in the comments. Your views matter to us.