The release of the storage feature in CastleVille with the introduction of the Storage Cellar in the game was followed by a new series of missions related to the new feature, the Storage Cellar missions – five new goals for you to complete. Although these are not difficult missions sent over by the gods from Zynga, I am sure that you're curious to find out all the details about them so read on to be the first to know it all!
Don't forget to share this article about the CastleVille Storage Cellar Missions with your friends too, since they would certainly love to know all the requirements before actually unlocking the missions and it will also help us out a lot!
The End Is Near? mission
– Visit 6 Neighbors and tell them to Remain Calm
– Feed 10 Animals in your Kingdom
– Have a Storage Cellar (get it in the market)
Rewards: 300 coins, 3 XP
Save for the End of Time mission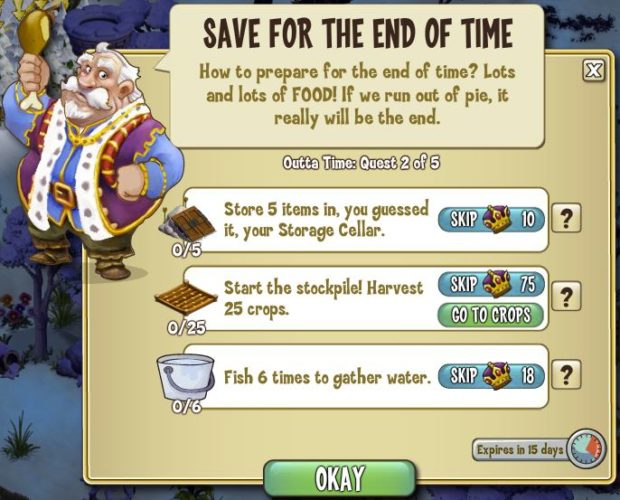 – Store 5 items in your new Storage Cellar
– Harvest 25 crops in your Kingdom
– Fish 6 times in yours or your neighbors' Kingdom
Rewards: 500 coins, 5 XP
Digging Deeper mission
– Upgrade your Storage Cellar (to do it, click the Storage Cellar and gather the required materials)
– Craft 5 Wood Planks
– Banish 1 Beastie in a Neighbor's Kingdom
Rewards: 1,000 Coins, 10 XP and 1 Energy Potion (Gives 5 Energy)
Restoration Preparation mission
– Buy 2 Sheep
– Have 2 Animal Treats (find them in the Market, under the Consumables tab)
Rewards: 100 coins, 10 XP
More in Store mission
– Upgrade your Storage Cellar to hold 200 items
– Have 5 Thick Books (ask friends for them)
Rewards: 1,500 coins, 20 XP and Bottomless Pit Royal Decoration.
And these are the Storage Cellar missions in CastleVille, I hope you'll have a great time completing them!
[source: Zynga forums]