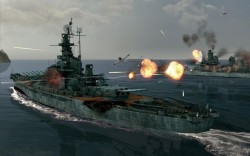 A new set of high quality action and strategy is close to be made available, as Eidos has announced: Battlestations: Pacific will hit the North American shores on May 12, while Europeans and Australians will have to wait three more days until May 15 to get their hands on the game.
Sequel to successful Battlestations: Midway, Battlestations: Pacific promises to take the action/strategy gameplay to the next level. Expanding upon the combat of the first title, players can take to the skies and seas through two massive, action-packed campaigns across 28 missions, featuring some of the most decisive naval battles in history.
An historically accurate US campaign puts players in command of the US Navy's Pacific fleet through the Battles of Guadalcanal and on to Iwo Jima, Okinawa and victory. For the first time, Battlestations offers players a chance to rewrite history, playing through a Japanese campaign as the Imperial Japanese Navy from Pearl Harbor and on through Asia, Australia and beyond, expanding its empire throughout the Pacific rim.
"With over 100 authentic air, sea and undersea units, a compelling mix of action and strategy and an extensive multiplayer game, Battlestations: Pacific lets players participate in the Pacific conflict like no other game before it," said Lee Singleton, General Manager of Eidos Game Studios. "With direct control over fighters, bombers, kamikaze planes, destroyers, aircraft carriers, submarines and many more, including powerful prototype units, they will experience a level of immersion that truly brings the conflict to life."
If you enjoyed the first game in the series, you will certainly love Battlestations: Pacific, too!