PC gaming came out of it's dark ages when Steam and platforms like it centralized the games and players. Now, over 10 years since Steam was first introduced, PC gaming has found a foothold in offering diverse indie titles and the highest end Triple-A blockbusters.
And while that ecosystem is now an integral part of the gaming landscape, there are arguably easier and more accessible ways to approach PC gaming with the same payoff.
Blizzard's Battle.net service has been around in some form since 1996, but only recently became the perfect introduction to PC gaming. The Battle.net we see today houses all of Blizzard's blockbuster titles; World of Warcraft, Starcraft II, Diablo III and Hearthstone. Although the four titles may not sound like a lot when compared to Steam's thousands, each of these games manages to capture player's attention for hundreds of hours. The four titles, which range from the high 80's to the mid 90's on Metacritic, are also free in some form or another. Hearthstone is entirely free-to-play, while Starcraft and Diablo have the first couple of hours free. World of Warcraft allows users to create a character and play to level 20 for as long as they want. After you decide which games you like, Battle.net allows you to buy and download the games from the desktop app. As soon as the game is playable, owners can jump right in while the remaining sections download in the background. After that, the app will automatically download patches and updates so that you don't waste any time logging in and playing. But it's not just the infrastructure and ease of use that makes Battle.net great – it's the games themselves that offer such a vast array of interest that really makes for an all-in-one starting platform.
The oldest and most popular title of the group, World of Warcraft (WoW) captures not only age and beauty, but accessibility and gameplay as well. The massively successful MMO found it's heritage in Blizzard's Warcraft RTS series, which had gone on for ten years prior to WoW's release. Now, 10 years after WoW's release, the game has grown into a cultural phenomenon. In an infograph released earlier this year, Blizzard provided some staggering numbers about that popularity, like a player base that tops 100 million users and  the 500 million characters the game has seen to date. The numbers telegraph the value World of Warcraft brings to it's players. The MMO is incredibly long, taking days to complete instead of hours. The world has a simplistic beauty and the art design still stands alone in today's crowded landscape. Playing through the game with friends is an even better experience, requiring a level of teamwork unattainable before WoW. Now the game has four expansion packs and days of additional content, with almost all the rough edges taken out to provide one of the most deeply engrossing, substantial games to date. But World of Warcraft is just the first of Battle.net's four titles, so if the best of traditional MMO gameplay isn't your thing, perhaps Blizzard's other offerings will fit the bill.
Starcraft II is the next game in the lineup. Released back in 2010, StarCraft II: Wings of Liberty epitomizes the Real Time Strategy (RTS) genre. Maneuvering troops is scientific in StarCraft, with each passing moment requiring more precision and thought than the last. The title's reliable precision catapulted it into the growing eSports spotlight as the gameplay could be exact enough for professional play. For newcomers to the genre, StarCraft II can be a bit intimidating, but it's tutorial and cinematic focus provide an intriguing, if not insightful, introduction to the series. Playing hours and hours on end becomes commonplace, with both the hefty story and endless multi-player occupying hundreds of hours of time. The approachable complexity defines StarCraft on the surface, but it's the moment-to-moment action that keeps players so dedicated to the franchise. But eventually all that Real Time goodness can run out, and if StarCraft aficionados manage to get their fill of the game, Battle.net still offers two more titles to fill that void.
Diablo III came out in May of 2012 and quickly became the fastest selling PC game of all time, with over 3.5 million copies purchased on day one. The game released to a fair bit of criticism, both to it's then controversial always-online policy and to a general lack of refinement in the systems. Since then Diablo III: Reaper of Souls has released – fixing many of the perceived refinement issues – and the always online uproar has quieted. What's left is an addictive loot-grind that mixes the best of WoW's skill system and StarCraft's RTS usability. In Diablo players are tasked with playing as one of six classes as they gather gear and level up in pursuit of Diablo, the final boss. It's that pursuit that makes Diablo so good, as the combat is satisfying and the rewards generous, hooking players on the age-old risk/reward loop. Diablo III has made a genre unto itself with games like Torchlight and the Incredible Adventures of Van Helsing following suit, but Diablo still reigns supreme. If somehow one of these three games doesn't grab someone's attention, then maybe the last entry will.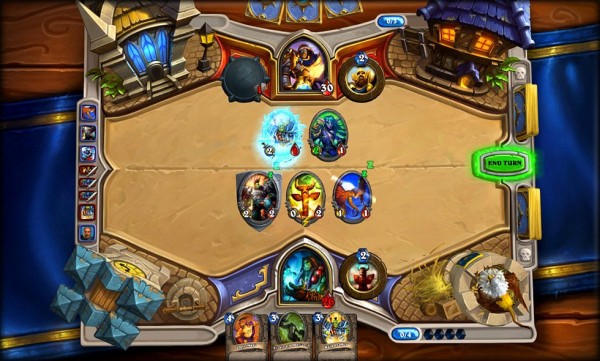 If you haven't heard of Hearthstone, then someone you know has. The game, which is available both through the Battle.net desktop app and iOS for iPad, is taking both hardcore and casual gamers by storm. The team at Blizzard designed a collectible card game refined down to the most basic mechanics, and then threw in some twists of their own. Playing Hearthstone, which is entirely free-to-play, captures that same cerebral sense as playing a game of chess, only Hearthstone lasts half as long and is twice as rewarding. All of the traditional card game elements are here, buying packs, random decks, different styles, the whole gambit. The difference is that in Hearthstone there is no ONE deck that can destroy everything else. The cards are balanced immaculately, making even the most basic decks compete. And if the other Blizzard titles had small barriers to entry then Hearthstone has none. A quick set of matches introduces newcomers to everything they could want to know. The free-to-play model Blizzard chose is among the best out there, with virtually no need to spend real money. The games suite of play modes ensures the experience will last a while, and  it is the best pick up and play title of the group.
Blizzard knew what they wanted to do with each of the four titles featured in Battle.net and did it, forging solid and often outstanding titles in their respective genres. The culmination are four games each worth their price for admission, and together make a compelling argument for why Battle.net is a great one stop shop for starting PC gamers. So if you decided that you want to get started with Battle.net, head over to their site and get started, I promise it's easy. Now I'm not saying that Battle.net is the only way to get into PC gaming, I certainly didn't start with it. Steam and the Humble Store offer some great games and deals for newcomers and vets alike, Battle.net just offers a great batch of games with every aspect highly polished and a minimal barrier to getting started. That being said, what do you think? Leave how you got started PC gaming in the comments below, along with your thoughts on Blizzard's PC Platform.