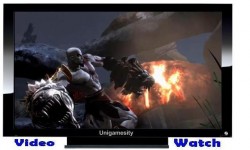 It's G time today for our Video Watch feature, and no matter if you go for the gears or the god, it's war, too. Of course, apart from these cool coincidences we have some much cooler and must see video clips: from a God of War 3 teaser trailer to a short presentation of the GTA IV: The Lost and Damned DLC and the Gears of War Combustible Map Pack trailer, just as promised earlier today!
We'll start with the Gears of War 2 Combustible Map Pack video, presenting the already released DLC for the beloved shooter. The Combustible Map Pack unleashes three new multiplayer maps: Flood, Gold Rush and Fuel Station – and they're all presented in the video below. All of the multiplayer maps in the Combustible Map Pack are playable in the highly popular, five player co-op Horde mode. The pack can be purchased right away for 800 MS Points and if you worry that you might be the only one getting the pack (and therefore having nobody to play it with in multiplayer), maybe those thoughts will go away if we tell you that just during the first weekend 1.5 million players played the game! Of course, it's up for you to decide if the Combustible Map Pack is worth your money, and for that we're offering the following video:
We'll continue with a really good looking teaser trailer for the upcoming PlayStation 3 exclusive God of War 3. A while ago the game was rumored to be looking much better than Gears 2 – and now you have the chance to decide if that was a correct statement or not.
Finally, the video presentation of the highly anticipated Xbox 360 exclusive downloadable content for Grand Theft Auto IV, The Lost and Damned is here. Take a glimpse at Johnny's world and, if you're the owner of a copy for the Xbox 360, enjoy!