There is still a long waiting for the official release of THIEF and every little information seems precious in order to preview what's about to come. A new artwork has just been released on the game's official site, this image presents a dark and mysterious drug store room. The next generation remake of THIEF will be the most thrilling and immersive, according to Eidos-Montréal's general manager, Stephane D'Astous:
The team at Eidos-Montreal is thrilled to confirm that THIEF is coming to Xbox One. The next generation of home consoles allow us to create the best and the most immersive THIEF game ever. The feedback we have received so far is simply amazing and we can't wait to show more of THIEF at E3 this year.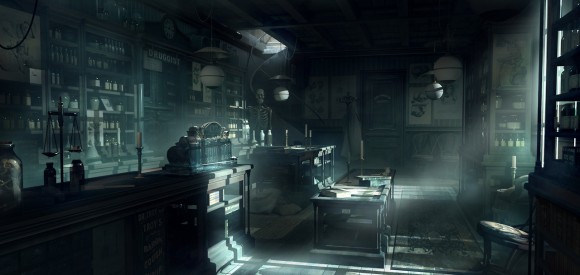 Analyzing the Drug Store Artwork
The image clearly displays a vintage room with an enigmatic aura evolving the whole scene. Even though there are medicines and flasks all over the place, everything seems well organized. The books on the table, the skeleton model and the anatomy pictures on the wall indicate that this place belongs to an academic person, possibility a doctor. The name craved on the door seems to put sense into my thought, "Dr. Troy's". So there's a drug store, a possible doctor room behind that door and a circle stairs going to the first floor, which could be his personal room. This picture is, with no doubt, a drug store that belongs to a doctor named Troy – perhaps Troy will be one of the major character in the new THIEF? But what would be his relation with the story or the protagonist? He could perfectly be an old friend of Garrett, surely he will need lots of medicine during his journey to retake back The City. Or perhaps, it's just a person that Garrett saves at the beginning of the plot and returning the favor wouldn't be too much for his life. A doctor would be a precious friend to have in times of war.