Live gaming is one of the world's fastest growing markets. It hits new heights every year – like in 2017, when YouTube increased its monthly streamer base by 343% in 2017, and Google's rival platform Twitch grew by 197%. This year, it's bound to account for a hefty chunk of the $137.9bn the global games market is predicted to be worth.
Live gaming is now a key feature on games across all devices – from PCs to mobiles and smartphones, to leading consoles. The world of live gaming is huge and varied, so let's take a closer look at the biggest and best live gaming experiences that have played such a key role in its success.
FIFA eWorld Cup
Before it became the high-profile event it is today, the first ever FIFA eWorld Cup actually took place in 2004 – when it was known as the FIFA Interactive World Cup (FIWC). The tournament started in Switzerland and was a relatively low-key affair compared to what it was going to become.
In 2010 the FIWC set the record for the largest computer games tournament in the world. It grew even further, as 2.5 million players signed up to play in 2013.
This year, 20 million gamers entered the tournament, but only 32 made it through to the main event – with 16 playing Xbox, and 16 on PlayStation. Saudi Arabia's Mosaad Aldossary scooped the trophy, securing a $250,000 prize in a 4-0 victory. Around 30 million viewers from over 100 countries watched the eWorld Cup across the three days it was streamed online.
Arsenal midfielder Mesut Ozil was one of the many footballers who congratulated Aldossary, tweeting: "Would have loved to congratulate you personally and handover the trophy. I hope I can learn from you someday personally!"
World of Warcraft
An estimated 5 million plus players have a Blizzard account for World of Warcraft and it is certainly one of the most popular gaming franchises in the world. Some of the best World of Warcraft players from around the world compete all year with the hope of qualifying for the World Championships.
The next incarnation of the tournament is due to take place in late 2018, and teams of players will compete for the grand prize total of $280,000.
Winning the tournament is incredibly tough and players have to prove their metal on the field of battle by competing in teams of three to prove themselves as the best in their region before qualifying for the World Championship Finals.
The top four teams from Europe and North America as well as teams from China, Latin America and Asia-Pacific are all represented in the World Championship Finals.
The 2017 final was contested by two teams, ABC from Europe and Panda Global from North America. And it was as easy as ABC for the European side, who came through 4-0 to be crowned world champions of World of Warcraft.
Live casino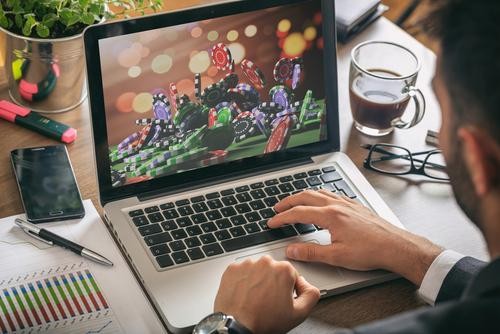 Until quite recently, you'd have had to go to a local casino to gamble. But since the internet came along and changed the industry, playing your favourite games like online poker, blackjack and roulette is more convenient than ever. You can play from the comfort of your own home, or on your mobile, if you're on the move.
What's more, you can now get a more immersive, personal casino experience thanks to live casino. By hooking gamblers up to professional croupiers and other players via video link, they bring the casino to their living room – or wherever they choose to play. It delivers the human element that was previously missing from online gambling, and also makes the games more real – as they're controlled by a real-life dealer rather than a random number generator.
You'll find live casinos at leading gambling operators such as Mr Green. As well as having a real croupier there to lead the game and provide professional customer service, players at Mr Green can also interact with others in chat rooms while playing online casino games – visitors to the site can make use of headsets and webcams to communicate with other players through high-quality visual and audio streams.
Perhaps the most impressive part of Mr Green's offering is the 'Live Beyond Live' feature, which is only currently available to mobile users. The feature harnesses VR technology to make the play even more immersive. Live Beyond Live allows players to experience a virtual casino with two blackjack tables and two roulette tables in a futuristic setting that's as engaging as live casino gameplay can get.
Call of Duty
The Call of Duty World League is a tournament that began in 2016 and ranged from Black Ops III, to Infinite Warfare and now WWII. In the 2018 season, the tournament is being played on WWII.
The tournament runs all year round with several qualifying stages across Europe, North America and the rest of the world. The group stages of the 2018 incarnation take place across August 15th to August 19th.
Out of all the live gaming experiences, Call of Duty is perhaps the most lucrative, with an estimated prize pot of $4.2m and sponsorship opportunities available for the very best players.
Matt Haag is one of the gamers who's doing just that. The Chicago-based 22-year-old was working in his local McDonalds three years ago, but now rakes in $1 million a year from doing what he loves, playing Call of Duty.
From streaming on Twitch and YouTube, Haag makes an estimated $700,000 a year, and tops up the rest of his income with prize money. Haag was recently sponsored by energy drinks giant Red Bull who topped up his income and paid for him to play Call of Duty in tournaments around the world.
Looking ahead: what's next for live gaming?
The FIFA World Cup and the World Series may still be the biggest draws in terms of sports entertainment, but the world is slowly changing. If you had told your parents that you spent the evening watching someone playing FIFA or Call of Duty online you'd probably be laughed at. Why watch them when you can just play it yourself?
But it's big business, and there are players out there that are on a different planet when it comes to skill levels. And they're laughing all the way to the bank. The average Joe could never compete against them, so the next best thing is to watch them battle it out amongst the other elite players.
In fact there are call for the English Premier League will start its own eSports league in the near future. Many clubs in the league already have their own dedicated eSports players that represents them in tournaments across the world – for example, Manchester City's Kai Wollin – so the natural progression is to make a dedicated league that will appeal to broadcasters throughout the world.