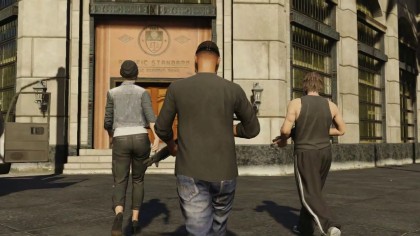 In a post on Rockstar Newswire, Rockstar has confirmed rumors and details concerning microtransactions being involved in GTA Online.
Rockstar have explained that "if you're the completely instant gratification type, you can choose to buy denominations of GTA$. You will have the option to purchase GTA$ through the in-game Store. The game and its economy have been designed and balanced for the vast majority of players who will not buy extra cash. There is no in-game paywall and nothing that should disrupt the balance of the game. You don't have to spend real money to attain the cars, guns, clothes, flash and style of a high-roller in Los Santos, but can if you wish to get them a little quicker."
They added that "the economy is balanced differently from the single player economy, and cash earned in one cannot be taken over to the other. Most players will earn cash much faster Online than in Story Mode." It also explained GTA Online's Reputation system, noting "Reputation is earned from all your online exploits in everything you do in GTA Online – and will help you rank up, providing access to new features, weapons and criminal contacts. Spend cash you've gained on cars, clothes, guns, properties and much more. You can either quickly accumulate cash through profitable activities like knocking over armored cars, winning street races, doing stick-ups or a host of other cash-making endeavors."
Rockstar have also added that glitches and complications might occur once GTA Online launches; much like the several different problems GTAV has seen this past week. Rockstar have stated that "there will be the typical growing pains for an online game, including but not limited to crashes, glitches, crazy bugs, gameplay modes and mechanics that need re-balancing and other surprises! Even in GTAV Story Mode, some of you may have seen a few odd and even amusing little glitches out there last week. This sort of thing is inevitable in a massive open-world game and there'll surely be lots more unexpected oddities like this in the Online world next week – rest assured we'll be monitoring and actively doing all we can to smooth such things out as they happen, but we need your help to find them, as well as your feedback to help fine tune all of the game's systems so everything is perfectly balanced."
The following content updates are planned to follow GTA Online's launch:
Content Creator – "Tools to tailor and publish your own Deathmatches & Races."
Beach Bum Pack – "4 new amazing beach fun vehicles, over 300 new items of incredible down tempo leisure wear and 2 new but not remotely relaxing weapons."
Capture The Flag – "GTA Online's take on the classic CTF mode including the ability to make your own using The Content Creator."
Heists – "This update will introduce full-on cooperative Heist missions that will require careful planning, teamwork and sharp execution – along with the Heist Planning Board for your apartment."
All updates will be free, alongside GTA Online. It will make it's debut on October 1 for the Xbox 360 and PS3.