Choosing between two gadgets with similar specifications, and under the same price tag, the dilemma is daunting. When it comes to gaming mice, Logitech's G403 and G703 are both top-notch picks. So if you are caught up between G403 and G703, and thinking which one to go for, we are here to help you!
Below you will find some detailed specifications of both, along with their pros, cons, and a comparison to make your job easier. Go ahead and check it out now!
---
Logitech G403
About
:
The G403 comes in two versions: wireless and wired. While the wireless one uses a PMW3366 sensor, the wired G403 has the latest HERO sensor, which is also used by G703. Though HERO sensors are no doubt among the best that supports pixel by pixel precision tracking, we will consider both the options available under G403 label.
Specifications(Wired)
:
Product Dimension: 5.1 x 10.2 x 20.3 cm.

Item Weight: 195 g.

Hero 16k sensor: It is one of the most advanced, with 1:1 tracking, 400+ ips, and 100 16,000 max dpi sensitivity plus zero smoothings, filtering, or acceleration.

Light Sync RGB: Full spectrum lighting responds to in-game action, audio, and screen color; Customize lighting effects from 16.8-meter colors with g hub gaming software, and sync across g gear.

Game-driven, full-spectrum RGB lighting responds to in-game action, audio, and screen color, synchronizing across G gear. Customize lighting animations and effects from ~16.8M colors using G HUB gaming software, and personalize to match your rig.

Comfort and durability: lightweight (87g), comfortably designed to mold to your hand with rubber grips for added control; 10 g removable weight lets you tune to your preferences.

G hub software: Configure six programmable buttons to simplify in-game actions and customize lighting, programmable action buttons. The fly dpi shifting lets you program and switch between five sensitivity settings from 100 to 16, 000 dpi to shift between pixel-precise targeting and lightning-fast maneuvers with fast button presses.

Advance gaming performance: 8x faster than standard mice with a 1 ms report rate, and spring button tensioning for better response with less force. Cable length: 2.1 meters (6.9 feet). Connection: USB cord.

The durability of the button: 20 million clicks

Price: $52.99

Customer rating on Amazon: 4.1/5.
Pros
:
Shape: unique, simple

Grip: comfortable

Price: economic

Very ergonomic

Accurate with latest HERO sensor
Cons
:
Scrolling could be faster.

Difficult to disassemble without tearing apart the little pads underneath.

No PowerPlay support if you are looking for one.

Wired
Specifications(Wireless)
:
Performance: This mouse is for advanced gaming-grade performance with up to 8 times faster response time than standard mice so that with every mouse click, the moves are almost instantaneous from hand to screen. The advanced button tensioning helps keep the left and right mouse buttons primed to click, thus reducing the force needed to click. This leads to the delivery of exceptional click feel, response, and consistency.

Dimension:

1.69 x 2.68 x 4.89 inches

Sensors: Logitech's most advanced optical sensor provides unbeatable fps mouse accuracy along with speed and flexibility,

PMW3366.

Design: It has an ergonomic, lightweight design with rubber side grips and a removable 10-gram weight for a genuinely comfortable grip and control.

Built-in memory stores settings for five favorite games.

Six programmable buttons simplify in-game actions.

Customizable lighting from 16.8 million colors.

In the case of Wireless mouse, the USB receiver will be provided inside or along with the mouse. Connection: USB cord or wireless receiver.

Price: $158.99

Customer rating on Amazon: 3.9/5.

Pros
:
Wireless

Good On-board memory

Incredibly optimized 2.4GHz wireless connection is lag-free for responsiveness that outperforms the competition's solutions, including wired ones. G403 lets you play more on a single charge or plugin for wired operation and charging

Reduced lag and latency

Long-lasting battery life

Thumb buttons are well positioned

Highly customizable DPI settings
Cons
:
Quite pricey

No Dongle storage space

Extra weight
---
Logitech G703
About
:
The G703 is almost similar to the G403 inbuilt. It comes with the Hero 16K Sensor, Lightspeed wireless technology with high responsiveness and connectivity for long lasting gameplay of up to 35 hours of continuous play with default LIGHTSYNC RGB lighting. It has robust dpi and high accuracy. Moreover, in this model, you can charge wirelessly on the PowerPlay mat without having to plug in the USB charger. Let's take a detailed look at the specifications.
Specifications
:
Product Dimension:

Length: 124 mm (4.9 in), Width: 68 mm (2.8 in), Height: 43 mm (1.7 in).

Designed explicitly for Pro Gamers: G Pro Wireless Gaming Mouse is the result of collaborative work with professional gamers, bringing in advanced technologies to this ultralight model. 

Light-speed Wireless: The limitations of wireless latency is overcome by Pro-grade performance. It also ensures better connectivity and power support to deliver a neat, 1-millisecond report rate of connection.

Through end-to-end engineering and design, Logitech G developed a robust wireless solution to solve the fundamental problems of latency, stability, and connectivity. The end result is LIGHTSPEED, a pro-grade wireless solution, that is actually faster than many wired gaming mice.

Advanced metal-spring button tensioning keeps the primary left and right mouse buttons poised to trigger with less force, which means exceptional button feel, responsiveness and consistency every time you click.

Hero 16K Sensor: This is Logitech's most accurate sensor to date with up to 16,000 DPI and ten times the power efficiency of the previous generation for the ultimate in wireless gaming speed, accuracy, and responsiveness. Microprocessor: 32-bit ARM

Game-driven, full-spectrum RGB lighting responds to in-game action, audio, and screen color, synchronizing across G gear. Customize lighting animations and effects from ~16.8M colors using G HUB gaming software, and personalize to match your rig.

Ultra Lightweight: The innovative endoskeleton has been designed to create a super-thin yet incredibly durable outer shell, that enables the body to weigh in at a remarkably light and manageable 80 grams.

PowerPlay mat for charging: The POWER PLAY energy field is transformed into charging current by the POWERCORE module, which attaches magnetically to compatible wireless gaming mice. Just snap it in and play. We've made it that simple. So, group up fearlessly, grind ranks, raid to your heart's content, and repeat—ad infinitum.

Ergonomic Ambidextrous Design: This is a tournament-ready mouse developed with esports pros for maximum comfort, control, and 50 million click durability. The four removable side buttons for supreme customization. 

Cable length: 1.80 meters.

The durability of the button: 50 million clicks.

Price: $200

Customer rating on Amazon: 4.5/5.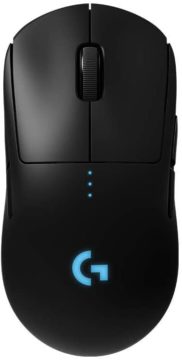 Pros
:
Light-weight

Lightspeed Wireless

Next generation HERO sensor

PowerPlay option

Nice grip

Shape

Good battery life

Wireless has no perceptible input delay

Super agile
Cons
:
Quite a steep price

GPW is a bit tail heavy when the PowerPlay module is inserted

May feel too light

Double click issue in some cases
---
Comparison
No.
Point of Difference
Logitech G403

(Wired)

Logitech G403 (Wireless)
Logitech G703

(Wireless)

1

SENSOR

HERO

PMW3366

HERO

2

WIRELESS

NO

Custom 2.4GHz

LIGHTSPEED WIRELESS

3

ZERO SMOOTHING ACCELERATION, FILTERING

YES

NO

YES

4

DEPTH

43mm

43mm

43mm

5

WEIGHT

87.3g

90g (100g with weight)

96g (106g with weight)

6

HEIGHT

124mm

124mm

124mm

7

WIDTH

68mm

68mm

68mm

8

POWERPLAY

ABSENT

ABSENT

PRESENT

9

DURABILITY OF BUTTON        (NO. OF CLICKS)

20 million clicks

20 million clicks

50 million clicks

10

CHARGING

USB Cable

USB Cable

Logitech PowerPlay mat 

11

DPI

100 -16,000 DPI

200-12,000 DPI

100 -16,000 DPI

12

COMPATIBILITY

Windows from 7,  8, 8.1, and windows 10, macOS 10.11 

Windows from 7,  8, 8.1, and windows 10

Windows from 7,  8, 8.1, and windows 10, macOS 10.11 ,Chrome OS

13

PRICE

$52.99

$158.99

$200

14

AVERAGE CUSTOMER RATING (BASED ON AMAZON)

4.1/5

3.9/5

4.5/5
---
Verdict
The basic differences between the wireless G403 and G703 is the PowerPlay charging mat option and sensor type.. While G703 has PowerPlay support and the latest HERO sensor which is undoubtedly among the best in the market accuracy-wise, G403 wireless comes with a PMW3366 sensor. Now, this sensor is not that bad and good for all your gaming activities. One other major difference is the durability. While G703 has an estimated button capacity of 50 million clicks, the G403 has 20 million click durability. But, the G703 comes at a steeper price. However, if you don't want to spend extra bucks and are not particular about the wireless factor then you can also go for the wired G403. This one comes with the latest HERO sensor as well like G703, and is quite good in grip, design, and sensor accuracy. It also has a 20 million click durability, and comes at a much cheaper price. 
---
Final Words
Both G403 and G703 from Logitech are good quality mice especially for gamers. They are highly sought after and come with comparable features. However, G703 with its HERO sensor, PowerPlay supported technology, and higher button durability (50 million clicks) comes ahead in the race. Although, the price tag is a bit too steep, compared to its counterparts. 
The G403 wireless works with a PMW3366 instead of HERO sensors, which is good enough for gaming. If however, you are looking for a cheaper yet good quality mouse then the wired G403 is a good option since it also has the HERO sensors. So all in all, if budget is not a constraint go for G703, if you want to be economic and wired or wireless doesn't matter to you, go for the wired G403. Finally, choose what you think suits your needs the best and enjoy your games!