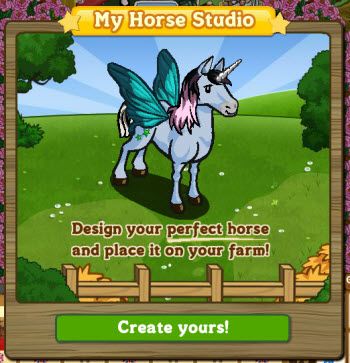 It all seems like a dream in FarmVille: not only that we have the Hawaiian Paradise farm coming really soon, but we can also start creating our own horse in the game – our dream horse. I am here to share with you all the details that you need to know when it comes to creating your dream horse in FarmVille, so read on this game to stay ahead!
A pop-up will introduce the My Horse Studio (you can also find it in the market if you search "Dream Horse") and that's the place where all the magic happens: simply click the Create yours button and you're ready to start customizing a horse to your liking.
Unfortunately for those who were hoping for a bargain, the Dream Horse is available for Farm Cash and it's pretty expensive: you start with a price of 22 Farm Cash and the price goes up as you select the features that you wish your horse to have: you can select colors, hair brush, accessories and effects – and all these will increase the value and you might end up having a horse that you'll have to pay over 70 Farm Cash for.
But it might be an unique horse and it's obviously your Dream Horse in FarmVille, so only you can decide if it is worth the price or not!