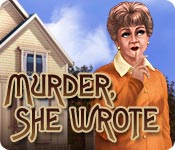 Ah, the "evergreen" Jessica Fletcher – the star of the Murder, She Wrote television hit series will now return as a virtual character in the Murder, She Wrote computer game – a game you were probably expecting since I've let you know about it quite a while ago.
Murder, She Wrote, the computer game is a casual, hidden object type of game that offers a great deal of fun in return for the seven bucks you'll spend purchasing it from Big Fish Games. In the game, as you might have guessed already, you assume the role of Jessica Fletcher, who has a knack for getting herself involved in "who-dun-its". Using puzzle and hidden object game mechanics, you are immersed in 5 classic Murder, She Wrote stories. During the investigation you are challenged with several mini games and puzzles that you must solve in order to gather clues and save the day by helping friends and strangers discover whom the 'real' killer is. See below characters from Jessica's journal whom she encounters. Are they criminals, victims or innocent bystanders? You decide.
The system requirements for Murder, She Worte – the game are very low (800 MHz CPU needed, plus 512MB or RAM), meaning that you can enjoy the game on any type of computer. Even better, you can download a demo from the Big Fish Games website before deciding if you should pay for the full product, or you could buy Murder, She Wrote right away and have fun!