Over the years, leading software developers have created games that offer the excitement gamers seek. Whether players are casual gamers or hardcore game enthusiasts, they will be able to find a game app that will deliver an amazing experience that will allow them to enjoy gaming on the go at all times. While many apps are free to download to a mobile device, some will come with a fee. Unfortunately, the most popular apps that are used by gamers are those that cost some money. In addition to the upfront cost to download, many gamers will also make additional in-game purchases, where they can buy power-ups and other things that will help the with game progression. There is a huge gambling element to these kind of games and they're not dissimilar to real gambling games like those listed at www.casingdom.com.
Here are 5 games which have this gambling element which are actually good games to play!
Hearthstone Heroes of Warcraft
Hearthstone Heroes of Warcraft is not one of the latest games to be released, but it is definitely one of the most popular still being played. This game was introduced in 2014 and has been one of the top played mobile games ever. It offers a gaming concept that is quite similar to Pokemon or Magic: The Gathering and players will be collecting cards, building different decks and battling with other players.
While the game does offer a few offline components that can be enjoyed, it is primarily played online. One of the great things about this game is that there have been many expansions offered and many more to come, so there is always something new and exciting to be able to enjoy.
The game may appear to be a basic card trading strategy game, but it does offer some endless action and excitement. The graphics are brilliant and the game runs smoothly on any mobile device. At the start of the game players will pull 3 to 4 cards out of a deck of 30. There are different game types such as spells, weapons and minions and the goal is to burn down the health of an opponent before they burn yours. The game requires experience and strategy and most players who play once find themselves drawn to the game, making it one of the most popular game apps.
Pokémon Go
Pokémon Go was an instant hit when it was released, having players walking through streets, towns, yards and visiting landmarks to capture roaming Pokémon using the camera on their mobile device. The game was the first segmented reality game from Niantic Inc and by using the smartphone camera and GPS, the game has players chasing Pokémon that appear on the streets of the real word.
The game offers battles just like with all other released Pokémon games and the goal is to capture as many as the critters as possible. This game became a huge craze, with millions of players all over the world scouring locations to try to find those rare Pokémon to complete the collection. The game has fizzled out over time, but it is still a great augmented reality experience and is a must have app for any avid gamer or Pokémon fan.
Riptide GP Series
The Riptide GP games that are available as apps are some of the most exhilarating racing games for any Android device. The latest Riptide game is titles Renegade and when playing, one will be a racer that has lost their credentials for illegally being involved in a street race. Players will battle back to the top and the game offers simple controls, amazing graphics ad some fun tricks.
There is also a great boost system that will help players gain an edge so they can win more races. The best part of the Renegade game is that players only have to pay once to gain access and there are no in-app purchases that have to be made. The game is also completely free of ads, so it is a smooth game that has no interruptions.
Unkilled
Those that are seeking a shooting game will not go wring with Unkilled. This is one of the hottest zombie themed games and it has been developed by MADFINGER Games, the same company that developed other great titles like Shadowgun and Dead Trigger 2. With this game, players will enjoy breath taking graphics and more than 300 missions to complete.
There are boss fights, a great array of weapons that can be used and many upgrades and features that can be unlocked as the game progresses. The game is a free title, but it is one that is packed with excitement, adventure and ongoing action. Any player that loves the action of a shooting game will benefit from this amazing title and it is one that has been on the top of the list for gamers since it was released.
Vainglory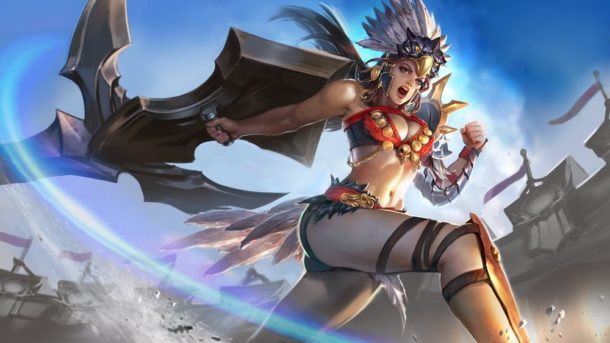 MOBA games have been a popular choice for gamers all over the world and with Vainglory, players can enjoy the action of a huge cast of characters on their mobile devices. The game has players attacking opponents as they play with two teammates and players can choose to play against other real players or they can elect to play against bots.
With more than two dozen characters that can be unlocked, there is never a dull moment when playing this multi-player game.
This amazing game offers console graphic quality and there are fast 20 minute matches that can be played. Players will crush various minions, destroy enemy towers and engage in intense team fighting events as they collect cards to create special skins for their chosen Hero.