For a while now there were rumors about a new vehicle coming to FarmVille: the Hot Rod Tractor, but nobody had any details about it. Until today when Zynga decided to officially confirm the vehicle and prove us, once again, that they really know how to bring players to their games.
According to an official post on the FarmVille forums, the Hot Rod Tractor will be the first item (in a series of many more, probably) that has to be unlocked in another game in order to be purchased in FarmVille. Here are the details on how to get the Hot Rod Tractor:
You can visit Mafia Wars to unlock the option to purchase the Hot Rod Tractor in Farmville for Coins. Clicking the 'Get This' button will give you the option to launch Mafia Wars. You will receive another pop-up informing you that you can unlock the Hot Rod Tractor by advancing to Level 10 in Mafia Wars.
Upon entering Mafia Wars, you will see a pop up similar to the one below:


After clicking the 'Start Playing Mafia Wars Now' button, you'll be taken to Mafia Wars and battle your way to level 10 and unlock the tractor. A message like the one below will pop up: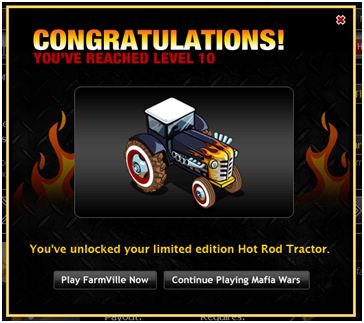 …and you'll be able to purchase the Hot Rod tractor in FarmVille for regular coins! Alternately, you can purchase it for 55 Farm Cash from the market.
Although this proves to be a really smart marketing move, I am sure that it will manage to confuse quite a few users who will keep asking how to get the Hot Rod Tractor and will have a tough time trying to earn it. But nevertheless is a nice feature we'll see implemented "in the coming days". And the fun will begin!