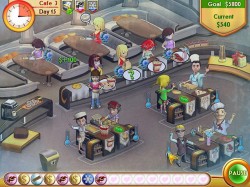 Quite a few hardcore gamers would instantly say no to most forms of casual gaming, but we all know that works until you get your hands on a game. After that, no matter how hardcore you are, you'll certainly spend at least a couple of hours serving blue ice cream to red customers, delivering wedding dresses and so on. Well, my dears, a new game like the ones mentioned above is in town: Amelie's Cafe.
Developed by Alawar, the game mixes time management gameplay with financial strategy, point and click elements and match-three puzzle solving in order to deliver a unique experience. The game introduces Amelie, who has to run her grandfather's cafe while the old man is in vacation. Throughout her adventure, she'll work her way up from a waitress to an experienced business owner while gradually renovating the restaurant, hiring skilled chefs and expanding the menu of what will be Amelie's Cafe.
"Amelie's Cafe continues the tradition of casual gaming hits like Diner Dash and Farm Frenzy," says Artem Ershov, producer. "At the same time, it expands on what made those releases popular. Our goal was to combine two genres: time-management, represented by the frantic pace of working in a cafe, and match-three games. Amelie won't be collecting jewels, though, but creating chains of bonuses that can help her come out on top."
Just like in all similar casual games, the goal of each level is to earn a certain amount of money. Novices only need to reach a token sum, while experienced players can achieve Expert status by racking up record revenues. Winning will require both a quick hand on the mouse and acute concentration, as collecting and delivering orders won't be enough to succeed. Amelie will have to keep her kitchen in order, her ovens clean and her guests quickly moving out the door, food in hand. In other words: a clear time eater if you start playing it!