Downtown arrives to CityVille with a bunch of super-duper items and one of them is the Trucking Depot which allows us to produce premium goods and also turns our virtual cities into something really amazing. I am here to share with you a complete guide to the CityVille Trucking Depot, so let's get it started!
In order to have access to this feature, you need to be at least level 20 and, obviously, to have the CityVille Downtown unlocked – it will be available on your board already and there are more upgrades that you can build for it for improved looks and usability.
In order to complete the Trucking Depot, you will need to click it in you city and gather some construction materials from you friends. Here is what you need to get: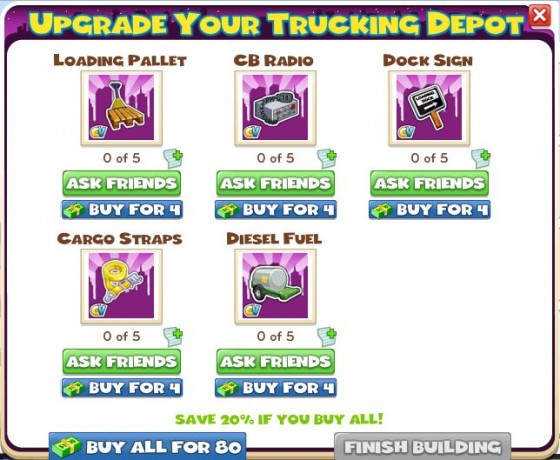 After finishing the building, you can already start the upgrading process – but in order to do so, you will have to complete various tasks. For an example of what should you expect to get, here is what you need to upgrade the Trucker Depot to level 1:
And what is the use of the Trucking Depot in CityVille? Well, you will be allowed to send trucks in a similar manner to sending ships and they will return to your Downtown area with premium goods. The higher the level of the Trucking Depot, the more goods you can get.