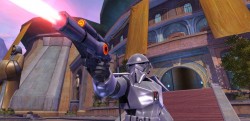 No more secrets for now, we know the project Bioware is working on and it's not "tied to Microsoft": a massively multiplayer online game developed in collaboration with LucasArts, called Star Wars: The Old Republic. With a huge competition in the MMO universe and with two big titles released to fight against the giant WoW (I'm talking about Age of Conan and Warhammer Online) it remains to see what new stuff can Star Wars: The Old Republic bring us.

Dr. Ray Muzyka, Bioware CEO explains: "Traditionally, massively multiplayer online games have been about three basic gameplay pillars – combat, exploration and character progression. In Star Wars: The Old Republic, we're fusing BioWare's heritage of critically-acclaimed storytelling with the amazing pedigree of Lucasfilm and LucasArts, and adding a brand-new fourth pillar to the equation – story. At the same time, we will still deliver all the fun features and activities that fans have come to expect in a triple-A massively multiplayer online game. To top it all off, Star Wars: The Old Republic is set in a very exciting, dynamic period in the Star Wars universe."
The action in Star Wars: The Old Republic will be set about 300 years after the events in KOTOR and that's about all we know for now about the game. I must admit though, that I truly think more than just adding a story will be needed to separate the game from its competitors, even if it's developed by Bioware and Lucasarts and it's a Star Wars MMO.