2014 will be an amazing year for gaming and with so many great titles about to be released, you'll want to spend as little as possible on your gaming computer, to have the money for all the games. We've decided to come and aid you with the best cheap gaming computers in 2014: all of them under $1,000. We've spent hours searching for the best options so that you don't have to. You just choose your favorite based on your budget and are ready to get your game on.
So let's check out the best cheap gaming computers under $1,000 below! (Do have in mind that most of these gaming computers don't have current generation power, but they do the best job possible for their price. Just don't expect to play the upcoming GTA V for PC on maximum settings, though!)
MaxForce PC Defender 7750
One of the best deals that we managed to find, and clearly the one to start with. Priced at just $700, the PC Defender comes packed with one of the best Graphic Cards on this list: the Sapphire Radeon 7750, which is considered a top 50 Graphics Card over at Futuremark. Add to that the 3.6 GHz FX-Series Quad-Core FX-4100 processor and you have a really good gaming desktop for an insanely low price. Hurry to get it, this baby will sell like cold Mountain Dew on a hot gaming day!
CPU Solutions AM3+ FX-4130
A gaming computer with a 3.8 GHz AMD Quad-Core Processor can't be wrong. And if you care about the looks of your gaming rig, then this one certainly has them. Plus the ThermalTake V3 case to keep things cool when everything else gets hot on your screen. It also has 8GB of DDR3 RAM, WINDOWS 7 installed and a decent GTX 650 video card with 1GB of dedicated memory. A good by at almost $715 at Amazon (with an applied discount of $85.00!)
Hellion GM1213C
I am not the biggest fan of CybertronPCs, to be honest, but their products are of high quality and for the price asked, I shouldn't complain too much. That's why we have the Hellion GM1213C on this list, with some really good features, like NVIDIA GeForce GT 640 2GB dedicated graphics card, an AMD FX 6300 3.50GHz 6-Core processor, no less than 16GB of RAM and Windows 8 pre-installed. A real candy, actually, despite the not so amazing design. Check it out at Amazon before they have no more to sell.
CybertronPC Shockwave GM1213E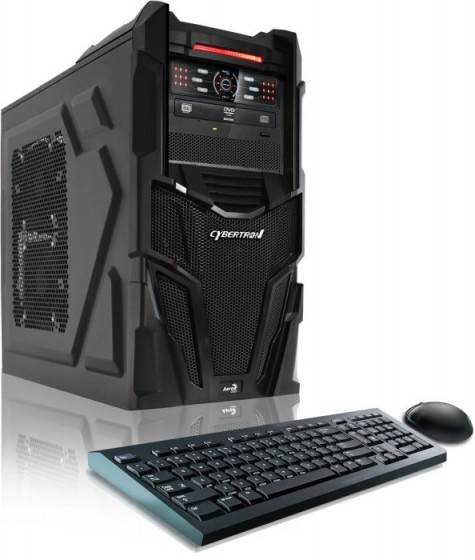 It seems that Cybertron are trying to make me love their gaming desktops. This one comes with an upgraded and sleek design, as well as some better features. It packs a better NVIDIA GeForce GTX650 video card over the similar AMD FX 6300 3.50GHz 6-Core processor and 16 GB of RAM. It also comes with an Aerocool Gaming Mid-Tower Case w/650 Watt Power Supply that really makes it look like one of the good guys (or bad guys) from Transformers. It's fast, powerful, efficient and quiet. The perfect match for a gamer – so check it out here.
CyberpowerPC Stealth Ronin
There's nothing stealthy about this little gaming beast that comes packed with lights and a nice combo of a gaming keyboard and gaming mouse. And it's not just the paint and polish that's nice about it, it's also beautiful on the inside! This means Intel Core i5-4570 Processor, 8GB of RAM and a really good NVIDIA GeForce GTX660 Graphics card. Check it out here.
Gamer Power AM781H
The force will be with you with the iBuyPower gaming computer which comes with similarly cool, red buttoned gaming keyboard and mouse. It's also a bit of a show-off, and you should take that literally, since you can look under the hood thanks to its transparent design, where you will see the beautiful Nvidia GTX650 graphics card at work. It also has a 3.2GHz Intel Core i5-4440 processor to keep things running as smooth as possible, but I am a bit disappointed with its HDD: 500 GB only, but there's also a 120 GB SSD. You can check this one out at Amazon for more details.
CybertronPC Shockwave GM1213H
And we're back to the Cybertron gaming computers and this one's a little rocket. Might not get you all the way too Mars with its AMD FX 6300 3.50GHz 6-Core processor, but it would make it pretty far, actually. And it would be a joy to watch the trip thanks to the NVIDIA GeForce GTX650 graphics card. 1TB of HDD space and 16GBs of RAM should also make things a lot more interesting! So click here to check it out.
Lenovo IdeaCentre K450
Well, to be honest, I never thought I'd use "Lenovo" and "gaming computer" in the same phrase and certainly not in an article with the best gaming desktops recommendations. But since Lenovo knows their way when it comes to cheap products, here they are with this little beast powered up by an Intel Core i7-4770, 3.4 GHz (yup, i7!), 12 GB of DDR3 and an NVIDIA GeForce GTX 650 graphics card with 2GB of memory. In other words, an extremely pleasant surprise from Lenovo! And right now it's available at a discounted price that saves you $100, so go get it here!
Microtel TI9032 Gaming Computer
If you're ready to go all the way to the upper limit and spend an entire thousand (well, $999.99), then the Microtel gaming computer is the best choice. It has an Intel Core i7-3770 3.4GHz (and 3.9GHz Turbo) processor, Nvidia Geforce 640 GT video card, 16GB of RAM and 1TB for all your data. And it also looks good too, just perfect for your room! Check it out here.
And these would be our recommended gaming desktops for 2014. We really hope that you find the one that you're looking for here and really get some value for your money. There are indeed better options available, but the prices are also higher. Also, if you want, you might consider our best cheap gaming laptops article in case you want to take your gaming everywhere with you!