Online retailer Zavvi has threatened to take legal action against customers after the site accidentally sent them PlayStation Vitas.
Back in November, a number of customers who had ordered a £20 copy of the game Tearaway from the website were greeted with a surprise when Zavvi sent them the PlayStation Vita and Tearaway Bundle. This bundle usually retails at £170.
When they realised their mistake, the Customer Service Team contacted those sent the bundle trough a mass email and asked for them to inform Zavvi of the mistaken delivery and send the parcel back.
"We are very sorry to inform you that due to an error in our warehouse we have dispatched the incorrect product." The email began (posted online by DarkZero)
"We are contacting you in order for us to arrange a collection of the incorrect item which is on the way to you. If possible, please keep the parcel in its original packaging ready to hand back to the courier."
It seems as though at least one customer has refused to send back their Vita, which has led Zavvi to send them a "final notice" to them, telling them to organise a courier to pick up the package by 5pm (UK Time) on 10th December.
"This is our final notice to politely remind you that you did not order, or pay for, a PS Vita and if you fail to contact us by 5pm (UK time) on 10th December 2013 to arrange a convenient time for the PS Vita to be collected we reserve the right to enforce any and/or all legal remedies available to us," The letter from Zavvi reads.
"Please email feedback@thehutgroup.com with the correct collection details. We look forward to hearing from you shortly."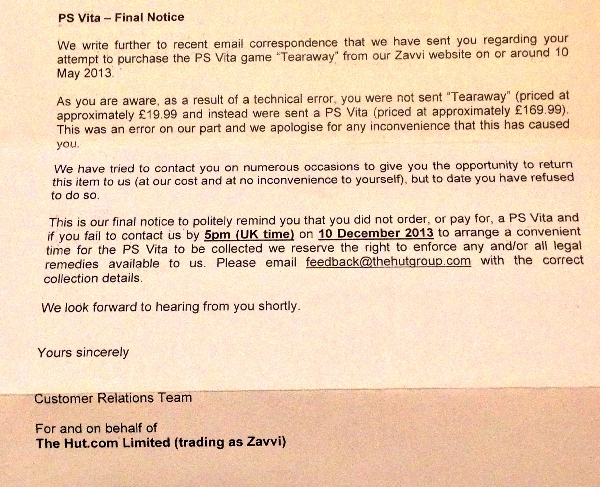 There are a few things that should be considered. Consumer advice website What Consumer says that "The Distance Selling Regulations state that if you are sent unsolicited goods, you are entitled to treat them as a 'gift' to do with as you choose. You are not required to keep them for any amount of time and you are certainly not required to pay for them. Any attempt to demand payment (by threatening means or otherwise) is unlawful."
This is however a rather murky area to look into. The Citizens Advice Bureau states that anything sent directly to you can be kept, but goes on to say that: "If goods are sent to you by mistake, you need to contact whoever sent them to let them know and ask them to collect the goods."
Where do you stand on this issue? Should the customer be allowed to keep the Vita, or own up to the mistake being made and send the Vita back to Zavvi?
[Sources also include: Eurogamer]