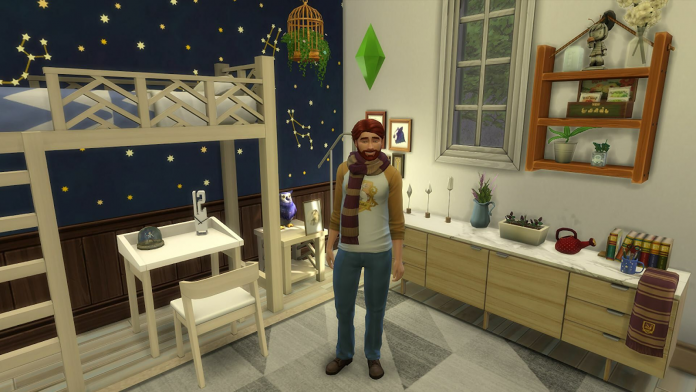 Source (not a free image)
If you have played Sims, you know the degree of customization it offers. It's diverse, integrated, and well-attuned to your personality. CAS or Create Sim backgrounds are an integral part of your playing experience.
Switching up the background gives you an upper hand in the game. Not only do you get to have fun with them, but you also get to switch things up while playing as well. Sometimes, you can switch up the background to meet the current life stage of your Sim too.
This article will walk you through the top 20 Sims 4 CAS backgrounds worth the time.
List of the Top 20 Sims 4 CAS Backgrounds
When shortlisting the best Sims 4 CAS Backgrounds, we wanted to keep things diverse. We aim to ensure that you have access to the best backgrounds that are versatile and can be used in different situations and scenarios.
Following are the top 20 picks we'd recommend checking out:
Designed by Flaresims, these autumn backgrounds include warmth and fall vibes. You get access to 12 solid background colors. Ranging from cloves to pumpkins, the color variance is quite amazing. What's great about these backgrounds is that they blend with the skin tone and aesthetic of every Sim in the game. You might notice a shadow popping up when you apply the background. So, use a shadow remover mod for that.
Designed by NekoChan-Simmer, the Sims 4 CAS Background Pack differs greatly from your standard solid-colored backgrounds. You get access to stunning moon and anime backgrounds, which look aesthetically pleasing. The pack has 6 CAS backgrounds, and one even has a floral setting. You can find various options, including anime, city life, flowers, the moon, etc.
This one is for those minimalists that don't want too much in their background. This is one of the best choices if you want to keep things simple with a plain background with a mirror. It is designed by littledica, draws inspiration from Sims 2 and 3, and has a retro vibe.
Now, when playing Sims 4, you want to switch things up virtually. These CAS backgrounds designed by Cinnasims are a great option. You can switch things up with different aesthetic backgrounds, ranging from grungy all-black to delicate mauve and pink. You can switch things up based on the personality of your Sims character.
Designed by Annett, the Sims 4 Photogenic CAS Backgrounds gives you access to a variety of backdrops that you can use for your photoshoots. There are solid colors and even an empty brick room for a more rustic look. It's perfect if your Sim is a model or takes part in photoshoots quite often.
Designed by Shasims, the pastel purples are another background option that deserves special mention. With the world being dominated by pastels, there's no surprise that you can't miss out on them in your Sims 4 game. They make perfect solid backgrounds for when you want things to look soft and aesthetic.
Another popular CAS background set by Annett is the island living set. You can transport your Sims character to a tropical holiday destination with stunning backgrounds. There are 10 different backgrounds in the pack. Also, the color and patterns in the background look pretty stunning.
Designed by Katverse, the Beach Pier Sims 4 CAS Background is a popular CAS Background for Sims 4. You get to apply this background to make your character enjoy a day out at the beach without having to do it literally. It's perfect for your Sims character to flaunt their beachwear.
Designed by Flirty Sim, the Sims 4 Pattern CAS Background is perfect if you want your Sim to take some stylized photographs in front of the background. You don't have to remove the existing background once you apply this. After applying this backdrop, you must move things around.
Shasims is known for its collection of nude and pastel backgrounds, and this is one of them. The peach pack consists of nine stunning backgrounds perfect to spruce things up. You can access multiple shades of peach, including coral, tulip, and orchid.
This one by blissfulkissessxx is an acquired taste. Most Sims 4 players don't opt for it initially because a lot is happening. But the good news is that it elevates the background of your Sims' apartment in a few seconds. Also, the neutral colors and the delicately designed rug look pretty stunning on the floor.
Designed by sprouts-lentil, the Nightfall Sims 4 CAS Background is a must-have for every Sims 4 player. The color palette of the background is stunning, minimal, aesthetic, and inclusive. You get to enjoy fall vibes with this color palettThethe warmth and cozy feeling emanating from this background pack is pretty enticing, too.
13. Sims 4 CAS Background Solid Color
You can never go wrong with the basics, right? So, having access to a solid color background is a must. This one is designed by NekoChan-Simmer and offers access to 18 solid-colored backgrounds. You mostly have dark colors in this pack, but they make good additions for different situations and Sims personalities.
Most of the above CAS backgrounds are specific to the female Sims characters, so we had to include one for the male ones. This attic bedroom background adds a cozy and chic look to the room. With this, you get to elevate the place's vibe to the next level.
Browns are a universal color that almost everyone loves and adores. Regarding CAS backgrounds, we had to include this pack from Shasims. The great thing about this pack is its versatility. You can use it if you play with a female or male Sim. Also, it's diverse and can fit the mood anytime.
Designed by Katverse, the Sims 4 CAS Backgrounds Gradient is perfect for the Sims that love color and vibrancy in their background. If you want to elevate the overall user experience, we'd recommend you go for it. There are seven different backgrounds that you can mix and blend.
Designed by Annett, this one deserves a special spot on the list. Keeping this CC handy would be ideal if you want your Sims to have upgraded room decors and designs. There are nine home backgrounds with this pack that you can switch between. There are seaside settings and minimalistic home decor too.
You can never complain about stunning shades of green, and Shasims understands that. This particular pack comes with nine backgrounds. You have different colors like Juniper and Dahlia. This kind of background adds a lively nature to the background.
19. Sims 4 Marble CAS Backgrounds
Designed by Katverse, the Marble CAS backgrounds are gaining much popularity. More than the standard way of living, these backgrounds are perfect if your Sim is a model and does photoshoots a lot. You have ten backgrounds to switch things around as needed.
Last on the list is the Sims 4 Black & White CAS Backgrounds by Katverse. This is the most basic yet important background you should have access to. After all, black and white are staple colors, right? You can place them anywhere and put your Sims at the center of attention.
Also read: 11 Easy Sims 4 House Ideas That You Can Try
How To Choose the Right Background for Your Sims?
Choosing one can be challenging with so many different types of CAS backgrounds available. To make the process easier, we have sorted out a few tips.
Understanding the mood and theme of your Sim's personality – This is mandatory if you want to choose the right background for your Sims character. Having a few packs saved and downloaded could be ideal for switching things up with the switch in your Sims' personality.
Considering the Sim's lifestyle and career – If your Sims is a model, you'd need access to funky, quirky, and solid backgrounds – All at the same time. So, identify their career and the kind of lifestyle they lead and then download the background accordingly.
Taking into account the interior design of the Sim's home – If you are one of those people that prioritize aesthetics over everything else, paying attention to the interiors is crucial. You want the background to match the rest of the home's interior.
Mix and match different backgrounds – The great thing about CAS backgrounds is the personalization tools. You get to elevate things to the next level by mixing different backgrounds. And it's completely normal. So, why wait?
Also read:
Conclusion
And that concludes our list of the top 20 best Sims CAS backgrounds. If you were confused about where to start, we hope this article gives you an idea. Always start with the basics first and keep them to the start. Once those are sorted, you can go for the more experimental backgrounds.