With App Store and Google Play combined, post-apocalyptic mobile games earned over $1.1 billion in gross revenue in the first half of 2021, pushing past superhero games' $780 million in revenue to become the most lucrative mobile game genre.
As the highest-grossing of them, State of Survival has generated an estimated $400 million (approximately CNY 2.5 billion) from App Store and Google Play in 2021, with over 1.8 million downloads on both Android and iOS just in September. The second one, Puzzles & Survival, has unlimited potential, reaching 0.79 million global downloads in a month with its unique "Match 3+SLG" gameplay that has drawn a lot of attention from the industry and players. Last Shelter: Survival is also noteworthy. It has been popular ever since it was released 4 years ago and maintained 0.27 million downloads in September.
What is so magic about post-apocalyptic survival games anyway? And why are players so into them?
Post-Apocalypse: High Survival Pressure Leads to a Great Experience
The term apocalypse can be found as early as in the Bible. As the foundation of missionary work, it means a judgment on the whole world, heavy with religious connotations. Apocalyptic events usually come in the forms of natural or man-caused disasters, such as floods, volcanic explosions, viruses, zombies, which have been constant inspirations for literature, films and TV series, and video games with a wide audience (especially in Europe and America).
Games with post-apocalyptic backgrounds can be more immersive than other game genres, because in a post-apocalyptic world, it is all about surviving. The horror elements in this genre of games can stir strong feelings in players in a really short time. And players are well aware that they are quite safe in such a virtual high-pressure world, so they will feel more cheerful after defeating "monsters".
Therefore, post-apocalyptic games would make sure such thrill is put in their advertising creatives, for the purpose of meeting players' needs in order to attract players to the game.
Ways to create a post-apocalyptic atmosphere in ad creatives
No.1: Work with hot TV series to bring out a whole new plot
As FunPlus's third lucrative game, State of Survival is almost the same as other SLG games in gameplay, introducing PVE and puzzles in its gameplay to entertain players during waiting time. According to SocialPeta's analysis on advertising, the game favors GoogleAds as an advertising channel. For the past year it has 5321 deduplicated ad creatives released through GoogleAds on Android, representing 38% of ads in total; followed by Facebook, Instagram, and other social media where trending topics can easily get people's attention.
FunPlus has given its answer to the question "how to make a thrilling advertising creative?" Which is: work with films or tv series. Adding hot roles in films or tv shows to game advertising will allow players to immerse themselves in the game very quickly. State of Survival joined hands with A Better Tomorrow and The Walking Dead, designing a scenario about the popular characters appearing on the advertising creatives.
This ad picked the popular character, Daryl, in The Walking Dead, starting with a very dangerous and tense situation. Players control the character to make different choices that will lead to different consequences. It gives players the feeling that they can decide the character's fate, which attracts a max number of The Walking Dead fans to play the game.
No. 2: "Simplify" medium-heavy mobile games
Besides adding movie elements. It's a very effective way to elicit excitement in players with great possibilities by simplifying a heavy story and showing the failure of the game due to some very "stupid" moves. Most importantly, it is a very good way for advertising games that have unique gameplay.
Puzzles & Survival by 37Games distinguishes itself from all other post-apocalyptic mobile games with its unique "match-3 + SLG" gameplay. This feature has also been emphasized in its advertising creatives.
Take the above ad creative for example. It displays how different players can play the game through "stupidly-arranged" scenarios. It starts with a cozy environment (camping with a girlfriend) and suddenly moves to an accident (girlfriend is zombified). After the intriguing plot, comes the core gameplay "match-3", which hugely reduces players' tension due to its simplicity, then follows a failure of the game because of a wrong move, resulting in great difference from what the players would expect thus to urge them to download the game.
Of course, this ad is more about how easy it is at the starting of the game. Compared to other gameplays, match-3 is easier, with which Puzzles & Survival is more simplified and can attract more light players who are looking for less difficult games.
PS: Puzzles & Survival has done an excellent job in localization too, different ad creatives for different countries. For example, it added the elements of school uniform and school girls to the ads in Japan.
No.3: Work with live action drama series to catch more eyes
The post-apocalyptic survival game LifeAfter (Chinese name: 明日之后) developed by NetEase's prime R&D team specializes in the surviving wasteland. Instead of fighting solo, it encourages more teamwork among players. Because of Knives Out's success in Japanese market, NetEase spent more effort in advertising LifeAfter in Japan.
It is also a very good way of advertising and releasing globally by cooperating with Internet influencers and key opinion leaders who have many fans on popular platforms, instead of celebrities. In order to attract players in other circles, NetEase also worked with My Zombie Girlfriend by Youtuber Yes Ranger in a video that has been viewed 5.65 million times as of today. Many players got to know LifeAfter through the video.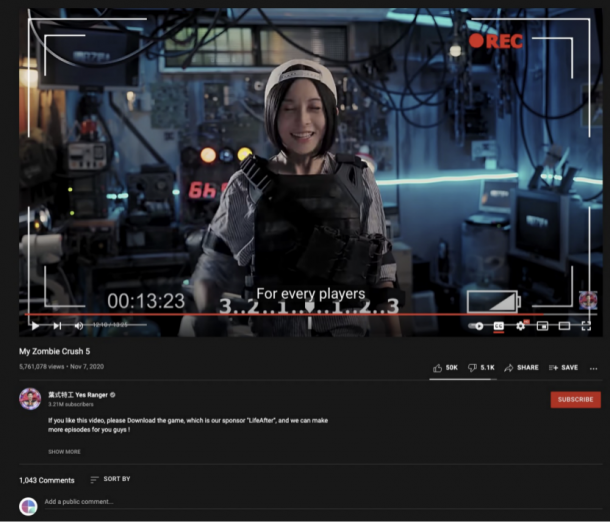 No.4: Large horde of zombies approach approaching make for a spectacular game scene
As a 4-year-old game, Last Shelter: Survival by IM30 Studios managed to record a revenue of 135 million in the first half of 2021. Its secret lies in its constant updates in seasons and gameplay. And advertising is the very key to delivering those updates to its targeted players.
The earliest advertising creatives for Last Shelter: Survival that SocialPeta has captured was on November 7, 2017. As of October 19, 2021, the game had totally of 34,000 deduplicated ads and over 61,000 ads in total. It's obvious that the advertiser values advertising very much.
This ad of Last Shelter: Survival, still lives ever since it was released on September 18, 2020, has reached a remarkably estimated impression of 13.2 million. It and other game ads differ greatly in designing conflicts. Individuals being attacked by zombies are replaced by two armies in battle encountering zombies. The scene is more spectacular and players will gain a greater sense of achievement.
In summary, post-apocalyptic games need to pay attention to the following tips in order to achieve success.
1. Bring games and films or TV series together to work out ad creatives to reach the core audience
2. Display core gameplay and show the uniquenesses
3. Character localization with pretty girls to catch more eyes
4. Sudden turns in stories for players to immerse themselves in the game
Conclusion
The influence of the COVID-19 epidemic has somehow given post-apocalyptic games an advantage in creating a sense of reality. But the real secret to a game's great success is to create the most suitable ads for a game for precision advertising based on data analysis platforms' full analysis of other games' marketing strategies.