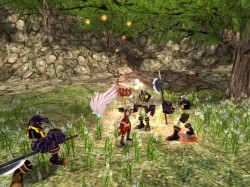 Atlus' MMORPG Neo Steam: The Shattered Continent will offer its players a brand new area to explore starting today, the Rope Isle. There are relatively few details regarding this free expansion – so we have no details if new monster types have also been introduced, but at least we know the backgrounds of the Rope Isle and we're going to share them with you, so you know what you'll be dealing with.
Rope Isle, once known as Acydia, was the source of the catastrophic earthquake that split the continent of Chrysalis. As the landmasses began to drift apart, desperate inhabitants instinctively fashioned cables to keep their world together. Alas, the attempt was futile and left Acydia a tangle of ropes and chains – resulting in its fitting nickname. Rope Isle remains a central part of the struggle in the new world, as it houses vast amounts of the ore used to harvest Neo Steam, a precious resource necessary to fuel most progress, travel, and industry across the nations.
"Our community spoke, and we always strive to listen," says Alice Ly, Online Marketing and Portal Manager, Atlus. "Rope Isle is an integral part of the game's history. It was the epicenter of change and later became a key point of contention in the war to harness Neo Steam. We agree with our fans that this map marks a powerful addition to Neo Steam: The Shattered Continent."
So in order to see what the new area actually feels like, go on and visit Neo Steam's page and start playing!