So, you've decided that you love gaming so much that you have to write about it? Then it's time to start a blog!
In today's article I'm going to teach you how to start a gaming blog, from scratch, in less than 30 minutes. Let me warn you: launching your gaming blog is the easy part! Getting your blog known to the masses and having all the AAA developers and publishers spamming your email with review requests and personal invitations to events is really difficult.
But we're taking it one step at a time! And the most important step if you want to get there is launching your gaming blog. Best part? You don't need any technical skills or experience blogging to get started!
Why learn from me when you've probably never heard about Unigamesity (or me) before?
Because in this extremely crowded niche, you probably haven't heard of 90% of the people who are making a living from their gaming blog. Like me! I started blogging about computer and video games in 2008 before switching to a self employed, no boss to nag me, full time blogger in late 2009 when I launched Unigamesity.
I've wrote for or had my articles featured on, or linked to by respectable and well known websites (Softpedia, Games.com, Eurogamer, Gamerant, Slashdot, Heavy.com, Neowin, Neogaf, Neoseeker plus many, many more) and I managed to get peak audiences of over 2 million unique visitors to my blogs. Per month. I am making a living today out of this, so I definitely know a thing or two about this topic. And you might want to learn and do what I do.
So I have decided to help people who were just like me was when I started: clueless. And today we're dealing with the most important part of your blogging career: getting your blog launched! So let's not waste any time and let's find out below how to start your own gaming blog from scratch in less than 30 minutes!
1. Select Your Blog's Domain (Name)
Although there are options for you to get a free blog titled something like myblog.blogspot.com or myblog.wordpress.com, if you are really serious about this, you will HAVE TO self-host your blog and get a .com (or other extension) domain name. This helps a lot in establishing a brand and also gives you a lot more options when it comes to customizing your blog, monetizing it and getting in contact with game developers and publishers. The free-hosted blogs are usually ignored without questions.
A .com domain only costs about $12 per year, but the hosting companies that we're talking about at point #2 below offer a free domain when you sign up, so you don't have to worry about this expense!
Just make sure that you have a good, catchy, easy to remember domain that is available and at least somewhat related to the gaming niche.
2. Get Hosting for Your Domain
Getting a good host is probably the most important thing when it comes to owning any type of blog. You need a high quality hosting company because otherwise your new gaming website will take ages to load (and you probably know how much you hate slow loading websites!), or it will go down completely and not be available for your readers. Getting a host that offers a free domain and has a platform that's user-friendly is, therefore, extremely important!
And fortunately, I have the best recommendation for those looking to start their own gaming blog: Dreamhost. This is the hosting company that I've been using without any reasons to complain since 2009 and even though I tried other renowned and highly recommended companies, I never considered leaving Dreamhost.
They are decently priced but, most important, they offer a high quality service that will ensure your blog stays online at all times, loading as fast as possible. Managing everything related to your domain is also extremely easy: from installing WordPress with a single click, to setting up your own email address (something like contact@mynewblog.com) and managing everything in between.
You will need to go for their Shared Hosting option in order to get the best price and there is even a DISCOUNT waiting for you at checkout. So follow the link below, then navigate to Hosting & Servers -> Web Hosting (if you don't think you can do it, there's a full guide on that as well below).
Click here to sign up with Dreamhost
Why should you choose Shared Hosting and not something else? It's because your gaming blog doesn't require anything better early on in its life. Other hosting options are more expensive and required for websites with a lot of traffic (visitors). Which is not the case of a newly launched blog.
However, once your gaming blog starts getting a ton of traffic, you can click a single button in your control panel and upgrade the service with no downtime or advanced requirements on your side. So go with Shared Hosting first and upgrade later if it's needed. Many big bloggers are still using Shared Hosting for their properties!
If you need help with setting up everything, I have a complete guide for you below. If not, check my Budget Hosting recommendation below or skip directly to the next step.
1. Go to Dreamhost and select, on the top bar "Hosting & Servers" – Web Hosting:
2. Click the "See our shared hosting plans" button or scroll down until you see their offer:
3. Click the "Sign up for a year of hosting" (or the 3 year if you want a better price) – you will be able to change that before making the payment.
4. Create your account by using an e-mail address and setting up a password. Click "continue"
5. Choose the domain name for your blog (you get it for free from Dreamhost). Your domain name has to be unique (meaning that you can't go for Unigamesity.com or IGN.com or anything similar):
6. Again, you have the option to select the hosting plan you want. Click continue after making your selection:
7. It's best to tick the "Install WordPress" option as it will automatically install it for you. You can also do this in your control panel after signing up:
8. Finally, fill in all the required data and make the payment. You're now the owner of your very own gaming blog!
You will receive an email from Dreamhost when WordPress is installed on your blog and you will have all the required information for operating the blog in your email.
Alternate (cheaper) hosting option
If you really want to keep costs to a minimum, there's a decent host offering better prices than Dreamhost. I have also used them and I consider them the second best hosting company you can choose – mainly because they have an ugly, less intuitive control panel. But the good thing is that you won't spend much time there, so if you're looking for something even cheaper for your first blog you can go with them:
Click here to sign up with Bluehost
The signup process is similar, but they are offering a huge discount when you sign up with them, meaning that your starting costs will be minimal. So hit the "Get started now" button on their home page, then select the option that's best for you: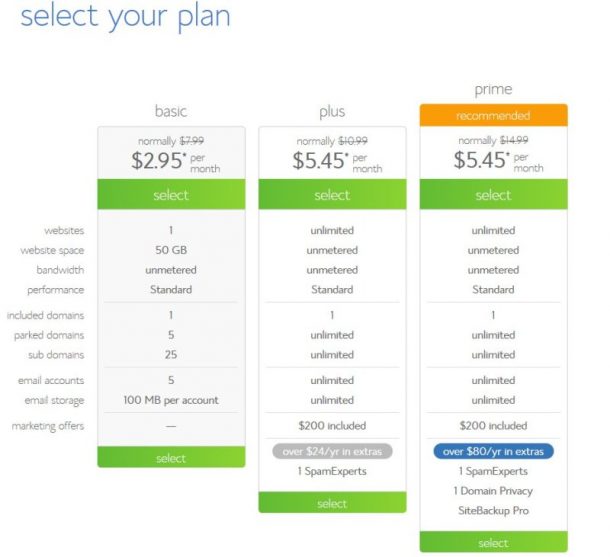 I would recommend going with the Plus version instead of the Basic one. The Basic version limits you to only 1 website (and you never know if you'll get extremely successful and/or fall in love with blogging and you'll want to start another) and only gives you 50GB for your website, which is somewhat restrictive. Whatever choice you make, I recommend to skip signing up for all the extras they'll be offering when you create your account (like site privacy and back-up and so on).
With Bluehost, you will have to take an extra step to install WordPress on your site after creating your account and registering your free domain. You only have to click on a few things, so don't worry!
Start by logging in to your account on Bluehost and going to Hosting – Website in the top bar:
There, simply click the "Install now" button under WordPress. You will have to grant access to Mojo Marketplace first and then you'll be taken to this screen:
Select your newly registered domain from the drop down menu and leave the "Directory" tab blank. I also recommend to uncheck the two plugins that are automatically selected.
Click the next tab and follow the on-screen instructions to create your Admin Username and Password.
With just a few clicks, you get your gaming blog from Bluehost as well!
So although I recommend signing up with Dreamhost, Bluehost are also a great option especially if you want to keep costs low. And although you can always transfer your website from a host to another, that requires some more advanced knowledge, so it's best to go with a host you'll stick with from starters.
3. Find the Perfect Theme (Design) for Your Blog
Most people, when starting their own gaming blog, are looking for a Theme that is created specifically for gaming blogs. This is a mistake, because the offer in this area is extremely limited. Instead, you can go for a highly customizable theme and really make it your own. Most of the themes nowadays allow you to change the way they look (to a greater or lower extend) with just a few clicks, so it's really easy to make most themes out there your own.
And although there are themes available for free, they offer very little in terms of customization, performance and, for obvious reasons, are not good as ones you pay for. The good news here is that you only pay once for a Theme and it's yours for life (with most themes getting constant updates to make them even better).
In order to get your Theme, browse the directory on Theme Forest. If you don't want to waste your time browsing through the thousands of themes or you simply can't decide, I have some recommendations for you (and they are all optimized to look great on mobile and tablets):
This is the theme I use on Unigamesity and I absolutely love it! It is easy to use, highly customizable and if you don't feel like doing the extra work for customizing it, you can easily import one of included designs which are extremely varied and cool. Click here to see it in action.
Milana
If you want to keep things very simple and clean, Milana is the perfect choice. It looks more like a regular blog, but sometimes you don't want to waste too much time on finding the perfect design options and you just want to focus on the content. This theme helps you do that. Click here to see it in action.
This is one of the better – if not the best – WordPress theme designed for gaming blogs. It has a ton of great features, it looks amazing and also comes with direct Twitch integration to share your live streams with your readers. Even if you don't use Twitch, it still remains am amazing theme! Click here to see it in action.
One of the youngest themes on our list, Huber comes with a ton of options, great speed and an amazing design that would be great for a gaming blog. It has a lot of options and features, including cool looking reviews, a special plugin that allows visitors to your website to leave their own reviews, options to create game pages (with all the articles for them and even release dates) – in other words, it's a gem! Click here to find out more.
After purchasing your theme, head over to your WordPress website and log in (you will have the URL address to your log-in form in the email sent by your chosen hosting provider). The page itself will look something like this:
Log in and install the newly purchased theme by going to Appearance – Themes in your sidebar:
Hit the "Add New" button at the top, then select "Upload Theme". Finally, hit the "Browse" button and upload the theme in zip format, then activate it. You can also start customizing the look of your blog, although it wouldn't hurt to have a few articles first!
NOTE: When downloading the theme from Theme Forest, make sure that you select "Installable WordPress file Only". If you go for a more advanced theme such as Newspaper, You will have to download "All Files and Documentation," extract the files from the archive, then upload the theme zip (Newspaper.zip in our case) – you will need to upload additional files, as per the theme's tutorials later on in order to activate additional and optional features.
4. Installing Plugins & Services
Your gaming blog is now ready to be launched, but there are some WordPress plugins and services that you should sign up for in order to help your blog even further. As services, I would suggest you to sign up for free for Google Analytics and Google's Search Console. The first allows you to keep an eye on the number of visitors coming to your website, what they're doing once there and much more. The Search Console allows you to optimize the website, submit a sitemap and have it indexed faster. You will need a free Gmail account in order to get access to these services.
You should also install the following plugins by going to Plugins – Add New in your new blog's sidebar. Simply search for the title of the plugins, install and activate them:
– Akismet Anti-Spam (helps you keep spam comments away for a professional looking blog. Usually comes installed by default with all WordPress install).
– All In One SEO Pack (this is a more advanced plugin that will help your blog rank higher in the search engines. The higher your blog appears in search engine results when people search for something, the more people will visit your blog)
– Google XML Sitemaps (an extremely useful plugin that creates a sitemap for your site. These are vital when it comes to telling search engines like Google when new content is published)
– WP Super Cache (this plugin helps making your site a lot faster than it would normally be. This is extremely useful!)
This is it! You now have your gaming blog ready to meet the world. Getting it known and turning it into a profitable business is the most difficult part, but at least you made the first and most important step in the right direction.
If you are interested in finding out more advanced techniques about promoting your blog, making money with your newly launched gaming blog and turning yourself into a pro blogger, comment below or use the Contact page to let me know. Based on the feedback this article receives, I will decide if a follow-up with more advanced details and tips should be written or not.
Until then I wish you all the success in the world for your new gaming blog!