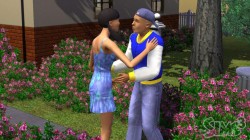 The pirates have won another huge battle against the big games publishers, but computer gaming certainly lost some more of the faith these big publishers had in the classic systems: The Sims 3, the upcoming life simulation game that was expected to hit the store shelves on June 2 has been leaked on torrents today, two weeks before the game's launch. This will certainly be a huge blow for EA!
We have no information yet if the Sims 3 torrent is for real or just a hoax, but from the comments read on various torrent websites, it appears that it really is the upcoming game from Maxis. The interesting part is that The Sims 3 torrent image weights only about 5GB, which might seem a little for some – but for the more casual audience The Sims 3 is aimed towards will certainly be OK.
However, the important thing is this: The Sims 3 has leaked on torrent websites way before the game's launch, most likely harming the sales of the title quite a lot. Electronic Arts and Maxis must certainly be really pissed off right now. We'll keep our eyes open for some more info, until then you can find out more about The Sims 3 by following this link.