Ever since we started covering the tech niche here at Unigamesity, I wanted to write an article about the best gaming keyboards. The idea is that usually you don't have to purchase a keyboard too often and choosing the right one is the key to victory here. I personally still run with a PS/2 keyboard and I am completely satisfied with it, but when the time will come for me to finally upgrade later this year, I will surely choose one of the gaming keyboards that we have listed below.
What features should you look for in a gaming keyboard? Durability would be first on my list as we, the gamers, tend to get angry sometimes and the keyboard is the easiest to punch. Then, we'd have all the technical requirements, ergonomic shape and enough buttons to make gaming a breeze. So here are the best gaming keyboards to try out in 2014:
SteelSeries Merc Stealth
One of my all time favorite keyboards, I love looking at it and considering it a keyboard that came from another planet. With over 125 pre-defined key mapping layouts, it's not all about a ton of buttons: it's also tilted at 11 degrees, which is the natural wrist position, which further means that your wrist won't start to ache after hours of gaming. Add to that three color illumination options (blue, purple and red), rubberized keys and anti ghosting capability that supports up to 7 simultaneous keystrokes, and you can already say that you've read all you had to read on this list and stop searching for a gaming keyboard. Really. Check it out here, currently running at a 31% discount.
Sharkoon Skiller
Bulky and hardcore – that's how I would describe this durable gaming keyboard. It features 8 swapable rubberized gaming keys so you can always customize the ones you really need to press with the biggest precision and also has 20 extra multimedia keys because… it can! This is an extremely durable keyboard too, a perfect fit for any angry gamer – it's keys are tested and promised to last for 10 million key presses, so that's a lot of killing you can do in your favorite games. It's strongest point? It's extremely cheap, currently running at just $17.99 on Amazon. So if you're low on funds, this one's a no brainer!
Logitech G710+
Logitech has a great offer when it comes to gaming keyboards, including the G110 and the popular G550s, but my personal choice goes to the G710+ since it's current gen and does a great job overall. The keys are extremely quiet (there's no clicking sound with the G710+) and Logitech promises faster response than that of the rubber-domed keys. Background lightning on three levels, plus the option to adjust the brightness of the arrow keys and WASD independently for flawless gaming at any level of light. Anti ghosting capability, customizable function keys… Logitech really did a great job with this gaming keyboard and you can check it out here.
Corsair Vengeance K95
If you're a MMO gamer, you need nothing BUT this gaming keyboard! You can set 18 macros on this mechanical keyboard and make sure that your constant key strokes won't harm it in any way. A nice but pretty useless, in my opinion, feature is that you can save gaming profiles on the keyboard itself rather than on the PC – useful if you plan to take your keyboard away and play at a friend's house. Apart from that, it has key-by-key customizable backlighting and a brushed aluminum chassis for a sleek look. It's not very cheap, but it's perfect for all MMO gamers out there – check it out here on Amazon.
Razer BlackWidow Ultimate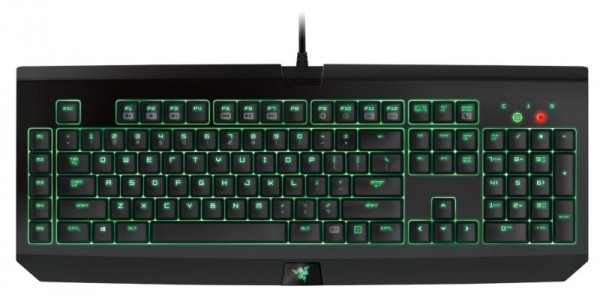 The Ultimate edition of the Razer BlackWidow is here and proves to be a top pick for 2014. It features fully programmable keys + 5 additional gaming keys with on-the-fly macro recording, individually backlit keys and extremely durable: each key is designed to withstand 60 million key strokes. Nice! Add to that a really nice design and you get a really good gaming keyboard overall. Check out the deals for it by clicking here.
Razer DeathStalker
The #1, best selling gaming keyboard on Amazon, and it still has a 4.5 rating after over 200 reviews – these are details that really matter when choosing your gaming keyboard. Add to that the fact that it's pretty cheap at just $67.17 (with a discount of 16% at the moment of writing) and you have a really sweet deal. A nice feature of this gaming keyboard is the slim key mechanics which reduce the time required for pressing a key – so if it's milliseconds you want to win in your games, this is they keyboard for you. It also has other great features, like anti ghosting for up to 10 keys and the nice green backlight of the Razer brand. Check it out on Amazon to find out more about it.
Logitech G13 Gameboard
And here's a bonus entry for those willing to bring the future to their homes now. The gameboard also cares a lot about your hand's comfort and does a pretty good job providing everything you need on the small board. It has an on-board memory that remembers up to 5 profiles, 25 programmable keys and a game panel that lets you see game stats, system info, and communications from fellow players. The bonus you should always invest in if you have the funds available! Check it out here – currently running at a 22% discount!
And these would be our top gaming keyboard picks for you to try out in 2014. Which is the one you'll pick? Let us know by commenting below!