With the holiday season 2012 fast approaching, we all know that a ton of amazing new games will be launched. Games that will require the best gaming computers out there and probably your rig is a little bit outdated. So if you want to purchase a gaming computer right now and make sure that you can run all those recent games at decent resolutions, this is the best time to invest in a gaming computer because of the discounts offered.
And to make things even easier for you, I have decided to create this list of the best gaming computers under $1,000 – an investment that should keep you over the floating line for about a couple of years (although, of course, this can't be guaranteed). Either way, let's check out the best gaming computers under $1,000!
Acer Predator AG3620-UR20P
This little beast looks like a monster and runs like a freak! Coming with an Intel Core i7 3770 Processor running at 3.4GHz, this gaming computer will make sure that you can run all of the recent games. Add to that a powerful nVIDIA GeForce GT 630 graphics card (with 2GM of RAM) and 12 GB of RAM and you have a beast to get the biggest FPS rate in all your games. Probably one of the best deals on this list at just $899. Get it from Amazon fast!
Acer AME600-UR378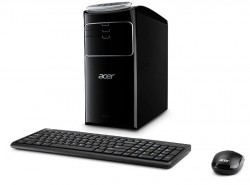 We continue with Acer gaming PCs, and this time we go for a slightly lower amount of RAM, but still some amazing features: 3rd Generation Intel Core i7-3770 processor 3.4GHz with Turbo Boost 2.0 Technology up to 3.9GHz, 10 GB DDR3, 2 TB SATA Hard Drive and an Intel HD graphics card – not the best of the pack, but good for some serious gaming on a budget. But only get it if it's a LOT cheaper than the other products on this list – so check and compare here.
CyberpowerPC Gamer Xtreme GXi990
Again a PC designed with the gamer in mind – the CyberpowerPC Gamer Xtreme completely deserves its name. Coming with a third generation Intel Core i7-3770K Ivy Bridge 3.5GHz (Max 3.9GHz) processor and 8GB of Ram, this computer has the latest operating system (Windows 8) and features a NVIDIA GeForce GT620 2GB RAM graphics card that will keep you really happy. Get it for around $850 from Amazon.
Lenovo IdeaCentre K430 31091NU
Lenovo is one company to keep an eye on and they certainly have cheap gaming computers to offer. Take the K430 as an example: Intel Core i7-3770 Processor running at 3.4 GHz, 8GB of RAM and storage space of 2 TB seem to be enough for any gamer. Add to that the dedicated NVIDIA GeForce GT 620 GPU with 1 GB of memory and you get quite a bang for your buck. It also looks like an alien, which is always a bonus for a gaming computer. Check it out and get it here for around $900.
Alienware X51
You can't have a list of great gaming computers without Alienware in it – and fortunately we can have a "best & cheap" list with the Alienware X51 in it! Although a bit more expensive than the rest of the pack, it also comes with the best graphic card, the GT640 graphic card from Nvidia. It also has the "required" Intel Core i7 3770 3.4 GHz processor and 6GB of RAM. It's about $990 and you can get it immediately from Amazon.
Microtel TI9032 Gaming Computer
And the "monster" of this list is the TI9032 gaming PC which sounds like a Terminator from the future and does act like a rig from the future! Offering an Intel Core i7-3770 Ivy Bridge 3.4GHz (3.9GHz Turbo) LGA 1155 77W Quad-Core Desktop Processor, no less than 16GB of RAM and Nvidia Geforce 640 GT 1GB GDDR5 Video Card, this little jewel is exactly $1,000 but is worth every penny. See if for yourself and order before they run out of it from Amazon!
And this is it – a list of the best gaming computers that you can get for under $1,000 – great performances guaranteed at some amazing prices. Make sure to order as soon as possible before these grat gaming PCs run out of stock – in some cases, it's a very limited quantity available!