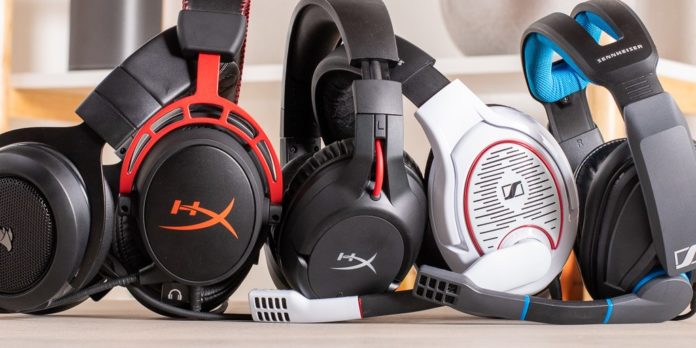 There is no doubt that a good gaming headset will improve your gaming experience. This is even more important for gamers who play adventure games.
How do you know a good gaming headset?
It can get confusing sometimes, especially with so many products in the market. The need for reliable and clear communication is increasing daily in the gaming world — no wonder the rise in the quality of gaming peripherals. We have prepared a list of genuinely terrific gaming headsets that don't just add the word "gaming" to make sales.
If you want quality audio, surround sound, and a crystal clear communication, below are the best gaming headsets in 2019;
HyperX Cloud Alpha
This gaming headset is truly a masterpiece, and it is designed to meet all your audio needs. HyperX Cloud Alpha has a 7.1 channel surround sound. This is one of the best gaming headsets we have seen in the market. It is comfortable to wear and comes with top-notch sound quality. It has a detachable microphone too.
Features
Wired (USB)
It has a 7.1channel surround sound
Comes with 50mm drivers
Dolby DSP
It has a 3.5mm jack
Pros
Excellent surround sound feature
Extremely comfort
It is affordable
Cons
Fussy microphone positioning
The cable is too long
LUCIDSOUND LS35X
This gaming headset delivers top-notch audio that is pleasing to the ear. The build is comfortable and stylish.
Apart from the excellent sound delivered by this product, the interesting feature here is that it is wireless and has a 50mm speakers. You know what? It also automatically configures itself. So all you have to do is plug and start playing.
It also has a delightful lightweight build with quality surround sound abilities. It is a must-buy for any professional gamer. Lucidsound LS35X is a complete upgrade from the other models.
To make it more interesting, the price is attractive and affordable for all categories of all gamers.
Features
Wireless
Configures automatically
Surround sound quality
Pros
It has a stylish and comfortable design
It has an excellent audio reproduction
It has a very strong build
Cons
It may seem too big for some gamers
SteelSeries Arctis Pro
If you are looking for an impeccable audio sound from a gaming headset, then go for SteelSeries Arctis Pro. Apart from the immersive surround sound it produces, it also has a DAC (digital to audio) feature. This gaming headset is also good to listen to your favorite music.
SteelSeries Arctis Pro appears on various gaming headset reviews and remains the choice of most gamers. Although it is a little bit pricey, it has all the amazing features and produces an excellent sound. No wonder it is keeps appearing on various reviews.
Features
Wired (USB)
It has a 40mm driver
Comes with a retractable boom microphone
DTS Headphone X v2.0
It has RGB lighting
It has a DAC
Pros
It also comes with DAC
Audiophile worthy sound
Cons
The surround sound is not as good as you would expect
The price seems a little bit on the high side
Corsair HS50 Stereo Gaming Headset
When you walk into a supermarket, you can't get what you didn't pay for. You can't pay for $50 headset and get a $200 gaming headset. That is what Corsair HS50 Stereo Gaming Headset offers. The price is lower than what you would expect of a good gaming headset like this. This headset rivals other popular gaming headsets.
From the build to the materials, everything about this headset radiates with quality. Corsair HS50 has a 7.1 surround and Bluetooth connectivity. At one point or the other, you will find these features useful.
Features
Wired (analog)
It has 50mm drivers
It comes with an easy on-ear volume and mute controls
Multi-platform compatibility
Pros
This gaming headset has a strong stereo sound
The price is worth the value
It has a firm grip
This gaming headset has a quality build
Cons
The microphone can be easily misplaced
It doesn't have a stylish build
Corsair Void Pro RGB Wireless
A few years ago, Corsair was known for manufacturing PC components only. However, five years ago, this company has gotten better in manufacturing gaming peripherals. The Corsair Void Pro RGB Wireless is one of its latest products. This gaming headset is very simple, but it produces a high-quality sound that will amaze you. At a glance, it may look like the regular headset in the market.
It has a strong build with a fantastic sound fidelity. It also comes with Void Pro RGB lighting. Let's say you already have a collection of peripherals manufactured by Corsair, and the Void Pro RGB Wireless should be added. It will fit in perfectly.
If you love lighting effects that synchronize with the sound, then this is what you are looking for.
Features
Wireless
It has 50mm drivers
Comes with a noise-canceling microphone
It has an RGB lighting
It has a Dolby Headphone 7.1 audio
Pros
Extremely comfortable
It produces a good sound quality
Nice design
Cons
The RGB lighting feature only appears on the Logo of the headset
Conclusion
Most gamers are quick to assume that the price of a gaming headset determines the level of quality it offers. This notion is not always correct because who would expect that a gaming headset as good as Corsair HS50 Stereo will be the cheapest amongst this list. The point is that the products on review were not selected because of their prices; instead, they made the list because of their quality.
Before you get a gaming headset, make sure it is comfortable and has a surround sound feature. This will let you hear different sounds at the same time. Always use your gaming headsets at a moderate volume level. Overdriving the volume could cause long term damage.