Mario Odyssey is another game on the Nintendo Switch that made a strong addition to the library of the console as well as for cult classic franchise. It should be considered a love letter to the best memories of its revolutionary predecessor – Super Mario 64. And if you consider yourself a fan, you should most definitely hang some good looking metal prints on your wall!
Displate is a global e-commerce platform that offers one of a kind design on magnet mounted metal prints you can showcase in every interior. So while having a great time playing new Mario, we decided to upgrade our surroundings with the best and most creative prints with world's favorite plumber (and his green clone, *cough*, brother Luigi). Because Mario Odyssey is really worth spreading the love!
Here are our top 10 best Mario designs on Displate!
10. Be the best version of yourself!
Because every motivational quote from Mario is like unearthing the ultimate truth hidden for centuries. Be the best version of yourself is simple, yet eye-opening.
You know there's only one driver that really matters. Grab your power-up and pedal to the metal.
8. A vintage 2-D engraving style retro gaming art
'A mustached plumber forcing his way through rabid turtle', woodcut, 1983
Best for people who shed tears at the sound of words "Mario RPG". Oh, it's nothing, there's something in my eye, don't worry.
Metal print that depicts Mario's version of Luigi's death stare. Chilling.
When everything you really wanted was to watch the world burn.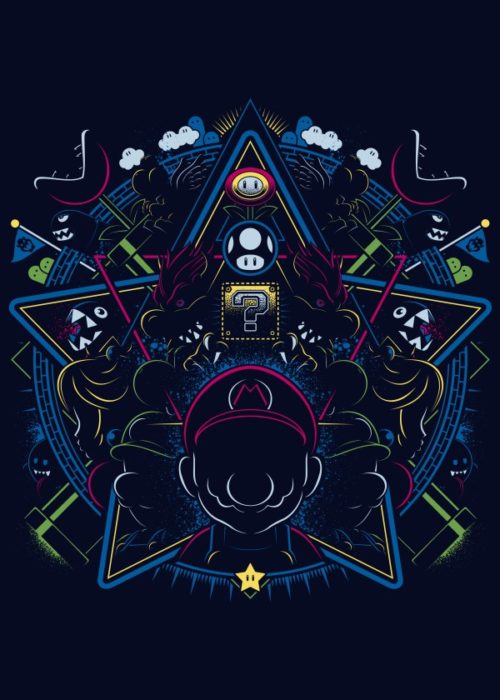 All the cult classic elements on one print.
On one too many mushrooms.
Mashups are awesome. So just think about mixing Mario with Mad Max universe. Then look at this design and realize it's already happening. Next step – Mad Mario Max Kart as actual video games. We want soooo bad!
1. Luigi's Sacrifice by Nopeys
Let's talk about Luigi. He doesn't get enough credit. Everyone's saying he's so pale because he'd lived in his brother's shadow for too long. Hell, he's even called a Green Mario which sounds like something you wouldn't say to your worst enemy. And yet, he's a reliable guy. His death stare will give you shivers and his company will help you through worst obstacles. He'll sacrifice himself for you or the mission. Remember about him. Respect him. Luigi is a badass.