Slope is a 3D action game. This game requires you to quickly control the ball to avoid the obstacles on the way. Your task in this game is to try to move on the narrow path … and run to the destination safely.
Game Slope is based on the Unity 3D platform, beautiful graphics, rich sound and difficult challenges … because of obstacles and complex terrain that many people love this game. There are also many other interesting things, let's experience and test your reflexes through this game.
This is a well-known game and you can play this game for free at: https://www.freegames66.com/slope
How to Play Slope
Your task in Slope is to control the ball through the obstacles, avoid touching the red walls at high speed.
There will be a lot of effects while controlling the gravity ball, you need to concentrate to control the ball to avoid collision or fall into the deep, otherwise you will lose.
Use the left and right arrow keys to control the ball. Your main task in the game is to control the gravity ball run as far as possible.
Impressions
1. Graphics
My first impression in this game is 3D graphics. Unlike other web games, Slope brings an interesting feel to the 3D map and it makes me really feel the gravity of the ball.
Besides, the details and lines also make me feel like playing in a unique space environment.
2. Gameplay
This game has a very unique element – gravity environment. Unlike other endless running games, Slope gives you a very realistic gameplay experience. When you control the ball, it will run faster when it rolls down the slopes and it will slow down when it touches the obstacle on the road.
This shows that in this game you can not win by pressing left and right arrows to dodge obstacles. You need to control the speed of the ball. That is the key to winning this game.
3. Reflection
It can be said that Slope is a great game to practice your reflexes. In the game, you need to dodge the red walls. You need to know that they will cause you to lose immediately.
Red walls and narrow streets will be difficult obstacles for you. So you need to have a good reflex to overcome them when you face them. You may die 10 times, 20 times … but you will realize that your reflexes will be better. I myself spent 2 hours playing Slope every day. And I find that my reflexes have become better.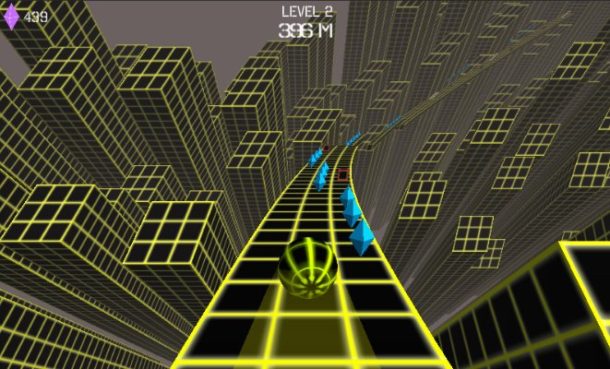 Conclusion
Although Slope's controls are simple, when you experience this game, you will find that defeating it is not easy. Needless to say, this game is not for those who like to win simply. To win it, you need more than just focus and control the ball to the left and right. You have to pay attention to the gravity of the ball.
If you are looking for a way to test your reflexes, try Slope. Moreover, it also helps you to train reflexes.