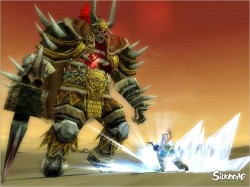 With Christmas so close, it's not a big surprise to see that lots of freebies and goodies are announced in the virtual worlds of various MMORPGs. Silkroad Online, for example, launches an update called Legend III Plus and a limited time Jewel Box Event that offers players lots of goodies in the game, as explained below.

During the celebration, monsters will randomly drop Jewel Boxes that can be traded in for special reward items, including the new B-grade Devil's Spirits. When equipped, Devil's Spirits give players the ability to transform into a demon, temporarily increasing HP, MP, damage, and movement speed. While B-grade Devil's Spirits provide a 5 percent boost, higher-grade Spirits, purchasable in the Item Mall, can boost abilities by up to 25 percent.
The Legend III Plus update also adds a brand-new area to conquer: the Bandit Fortress. This area is occupied in the same fashion as the Jangan Fortress and it features both a Specialty Shop and Ferry landing that fall under the control of those who occupy the stronghold. There is sure to be a lot of competition with this latest update, so make careful preparations if you have any hopes of becoming the next ruler of the Bandit Fortress!