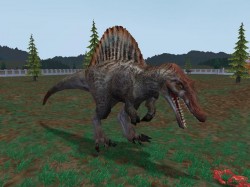 We've had our share of big game announcements already during the E3 2009 (and it's just day one!), but it's not all big and shiny: THQ has announced World of Zoo, a "Zoo Tycoon" game developed by the creators of the series, Blue Fang.
Although the game's title instantly made me remember the wonderful World of Goo (a game that has absolutely no connection with this Zoo sim), and I'm sure it will be quite funny playing one game after another, since they are so different.
Either way, World of Zoo will hit the store shelves by the end of the year and all zoo owner-wannabes will get their shot at virtually creating and managing their own zoo park. There will be 90 animals to choose from and to take care of, as well as 20 zoo exhibits.
However, by far the nicest thing about World of Zoo is the option players will have to create their own animals, in a Spore-like manner, an option that will certainly become the most loved one. But until the game is out, we can't say we're very excited. We're waiting, though.