Another great month has passed – and we had some amazing deals thanks to the Black Friday sales – but now it's time to look back at the titles launched over the past 30 days on casual games portal Big Fish Games and see which were the best games that you could download and play, so that you can give them a try if you haven't done so already. So let's check out the best casual games of November 2014 below!
Before we get started, I have to once again admit that it's pretty difficult to find something of great quality that's not a hidden object adventure game, so fans of this genre will once again be really happy with our offering today – but unlike many of the previous months, we have some amazing titles in the Time management or Match three puzzle genre!! So without further ado, here are the best casual games of November 2014:
Iron Sea: Frontier Defenders
Man the guns in Iron Sea: Frontier Defenders! There's no time to celebrate, we sank only a small part of the enemy fleet! The battle could begin at any moment, and we're in need of your steady hand and strategic mind again to deal with the invaders! Defend the fort against the siege, build cannons, use secret weaponry and have faith in victory! Click here to check out the game.
League of Light: Wicked Harvest
The League of Light needs your help solving another exciting case! Children have been going missing in the town of Blake's Mountain in the days leading up to the fabled Red Moon. No one really knows what will happen on that night, but everyone agrees it can't be good… Strange creatures creep through the shadows, and the citizens fear for their safety. Can you uncover the secrets of Blake's Mountain and rescue the missing children in this spooky Hidden Objects Puzzle Adventure game? We believe in you, detective! If you do too, click here to check out the game!
Fishdom: Depths of Time
Dive into the all-new game in the legendary Fishdom series! Submerge into the unique deep-sea world with your amusing aquatic buddies that will never let you feel bored! Take care of them; watch them play with each other, as you travel in time through different epochs. Decorate your fish tanks with over 150 exclusive ornaments and 8 immersive backgrounds. Enjoy 250 new Match 3 levels with perfected mechanics. Your pets are waiting for you, go check them out in Fishdom: Depths of Time! Click here to check out the game.
Silent Nights: Children's Orchestra
You rose from the ashes of a family tragedy to become a famous French soprano. Now your daughters are following in your musical footsteps, and you couldn't be more proud. But on the night of a prestigious concert in Italy, a fire breaks out, and a mysterious masked man leads your children away! Follow a trail of secrets and deception to find the masked man and save your daughters before they fall victim to a dangerous experiment. Head over to Big Fish Games to check it out.
Mystery Case Files: Dire Grove, Sacred Grove
Dire Grove has been plunged into a record-defying cold, and wild animals threaten at every turn! You've been called in to uncover the source of the town's troubles. But you quickly find yourself in the middle of a feud between the local hunters and the mysterious Mistwalkers who live in the woods. Can you prevent an all-out war? Pick your gender and use an innovative deduction mechanic as you try to discover the secret behind Dire Grove's curse! You can get the game here.
Nevertales: Smoke and Mirrors
Alice belongs to two worlds, the real one where she's following her dream to become the head of a company, and the storybook realm of Taleworld where she was born. These two worlds collide when her owl friend Gears returns with an urgent message. Her father has been arrested by the Queen of Hearts and will be executed for treason! Alice must use her unique mirror powers to travel between the real world and Taleworld to make her way to the Queen's castle. Alice's mother is leading the resistance, but will they be strong enough to defeat the Queen? Click here to find out.
Paranormal Pursuit: The Gifted One
Every second counts in this breathtaking paranormal adventure! Lives are on the line as you race to keep a young boy with psychic abilities from falling into the hands of an evil politician. To evade the henchman sent to kill you and kidnap the child, you'll have to find cleverly hidden objects and solve cunning puzzles using the boy's abilities to manipulate time and matter. Each chapter in Paranormal Pursuit ends with a nail-biting escape sequence during which you must make the right choices to avoid capture. A truly amazing game – click here to check it out.
Queen's Garden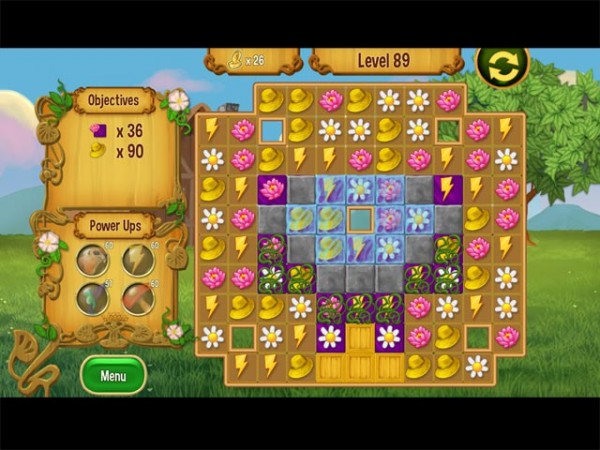 In a barren kingdom set atop a hill
There lived a king and queen, who likely live there still
The king was a caring man who loved to please his queen
His plan was to grow a garden bigger than there had ever been
You will cultivate a sea of bloom; fill the air with the breath of roses
From barren land to blossom—a sweet bouquet to royal noses
A perennial job for a seasoned grower—a garden for royalty
Apply within to serve the queen and be ever rewarded for your loyalty!
Pure poetry, indeed, click here to download.
Haunted Legends: The Stone Guest
Your friend, a brilliant doctor, thought his artificial heart would be the cure for his dying son. But soon after, orphans of the town began to mysteriously vanish, and the town accuses the doctor of black magic. Who is behind these devilish doings? Can your detective work unravel the mystery before the hearts of the captured children stop beating forever? Click here to find out.
Fear for Sale: The 13 Keys
The owners of the Hotel Berkeley are desperate – something has been scaring off their guests, and it could very well be a ghost! As an experienced journalist in the field of paranormal phenomena, they've called you in to figure out what's happening. All you have to do is spend the night in a haunted room… But the mystery you start to unravel once the haunting begins is even stranger than you imagined. Will you be able to solve the mystery before morning? Head over to Big Fish Games and you will find out!
And these would be, in our opinion, the best casual games released in November 2014. I am sure that you will find at least a few new titles to tickle your fancy, games that you will really enjoy playing. So have fun!