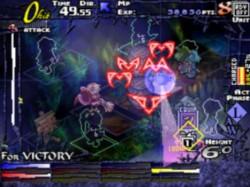 Atlus probably plans to become one of the most active publisher this year, after announcing quite a few upcoming "special treat" games. And they're not planning to stop! They're preparing to bring Knights in the Nightmare to North American stores this June and I'm sure that most of the Nintendo DS owenrs are jumping with joy after hearing this.
Because the game, as Atlus themselves describe it, is a "gaming experience unlike anything else": you're a magical wisp who has to guide the spirits of dead knights through a tainted castle, clear all the enemies along the way and eventually free their souls. Special attacks, dodging projectiles, and collecting items – it's all in Knights in the Nightmare, plus many more.
For example, Atlus consider their title to be one of the most stylish games for the DS, with a score that matches the themes perfectly (somber at times, intense at others). The cherry on top comes from the fact that, once you finish the title, you'll certainly play it again since a new mode will be unlocked, one which allows you to play as the "bad guy" too. So keep your eyes open for this game on June 2 this year!