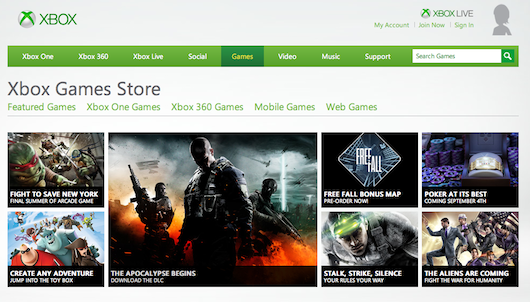 The Xbox Marketplace has now been rebranded into the Xbox Games Store. The change is effective immediately and Xbox gamers can go check out the new store for themselves. Microsoft was approached by Joystiq with questions regarding the name change.
The North American giant had this to say: "That's right, [Xbox Live Marketplace] is now called the Xbox Games Store, and will sit alongside the Xbox Music Store and Xbox Video Store. This is to make it easier for consumers to find content both on Xbox 360 today and Xbox One when it launches in November."
The name change, as stated by Microsoft, comes in preparation for the Xbox One's launch in November. Microsoft had recently gone away with Microsoft points and instead opted to implement a real life money currency instead. Something Sony has been doing with their PSN Store since 2006.
This might not be one of the biggest news stories to hit us this week, ( I'm looking at you 2DS ), but this does mean we all have to say goodbye to the 8 year-old Marketplace. The real life currency implementation seems to be hitting the online store this week as well.
With so much negativity surrounding Microsoft these past 4-5 months, this is probably one of the most positive changes Microsoft has made in recent memory. Getting rid of the outdated Microsoft points system and slightly rebranding their online store is the best thing they could have done moving forward with their new console. The actual store can also be accessed online here.
The Xbox One is set for a November release date.